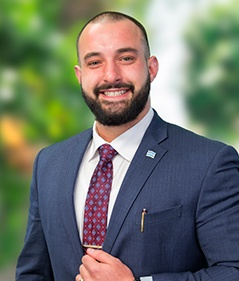 Jonathan Roby
Senior Mortgage Lender
Office: 773.741.4682
Fax: 312.268.7361
Get Pre-Approved For Your
Mortgage
Apply Now


Jonathan leads The Reliable Roby Mortgage Team as Senior Mortgage Lender for Neighborhood Loans. Roby's passion for helping his clients throughout Chicagoland accomplish the dream of home ownership is unmatched.
As an experienced professional, Roby's accomplishments are far from short. Many of his clients who have been turned down in the past find that Jonathan's communication and structured system to prepare them for the biggest milestone easy to understand and memorable experience. Dedication and persistent desire to ensure his clients are comfortable and in good hands.
Roby's mortgage team provides a custom designed experience that includes constant communication throughout the loan process, user-friendly technology, and an educational atmosphere to ensure future financial success and stability for his clients.
Chicago's buyer's market is varied from 1st time homebuyers to experienced investors. Jonathan's expertise in FHA, Conventional, Jumbo, VA, and 1-4 unit investment properties gives the ability to accomplish making many clients dreams become a reality.
Jonathan's love for his city of Chicago, drives him to be involved as much as possible in the communities. Jonathan proudly carries the Neighborhood Loans flag as their goals align with his goals of community reinvestment.
Alex Burnley plays an integral role as a Mortgage Lender on The Reliable Roby Mortgage Team, working closely with Jonathan to make sure clients are always attended to promptly and professionally. Alex consistently impresses clients and real estate agents with her lightning fast response time to questions and requests, even on evenings and weekends. Alex's dedication to world class service throughout the mortgage experience has 1st time buyers remain life long clients.
Contact The Reliable Roby Mortgage Team and witness "Chicagoland's most Reliable mortgage experience!"
Jonathan was AMAZING!!!!! I originally was dealing with a different representative from this same company and the difference was night and day. From day one of receiving my contact information Jonathan was Johnny on the spot about everything and called me that same evening and started working vigorously to.make sure that be could attain the best for my family. He increased my score dramatically within 1 week. Guided me step by step through the application process and explained every single form so that it was easier to process. Workes after bank hours and also played entertaining music in the office and eased the tension of the entire process. He helped me accomplish getting IDHA grant when you were told you couldn't by other banks and a low interest rate and payment. I was 9 months pregnant and Jonathan worked with me through delievry and afterwards to make sure that my family and I would have our dream home. From application beginning to close took 14 days. Going with JONATHAN ROBY was one of the best gifted to us through our home buying journey and I couldn't be happier. Thank you from the bottom of my heart.
Johnathan is simply the best at his craft! From beginning to end he was there along the way walking me through each and every step of the Home loan process. He worked very closely with my realtors, and kept me updated daily on what I needed to do on my end. Even through a couple outbidded contracts Jonathan was right there encouraging me not to give up and ultimately I found the home I loved the most! He's hardworking, cares greatly about his clients and was realistic with me throughout the entire process. Thanks Johnathan #ReliableRoby
Neighborhood Loans is a top-notch company to work with. Their workers are so knowledgeable and helpful throughout the entire process. I have used Neighborhood Loans for many home purchases and refinances, I would highly recommend them. The owner Reno is the "real deal", he cares about his customers and makes sure EVERYONE is 100% satisfied.
Cups of Coffee Had This Week

select your category