Indoor and Outdoor Home Decoration Ideas for Halloween!
September 24, 2021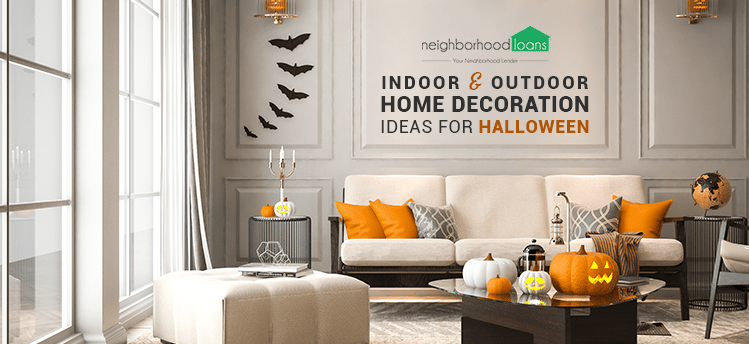 The Summer is starting to wind down and everyone is already planning or decorating for the Fall season. With Halloween approaching quickly, you'll need to find the right balance of holiday decorations for your home and neighborhood. If you're new to the area, this could be a good chance to meet or talk to your neighbors about what goes down on Halloween night. If you're looking for new ideas to spice up your yard, keep reading for the best indoor and outdoor home decorations for Halloween 2021!
Mini Pumpkin Patch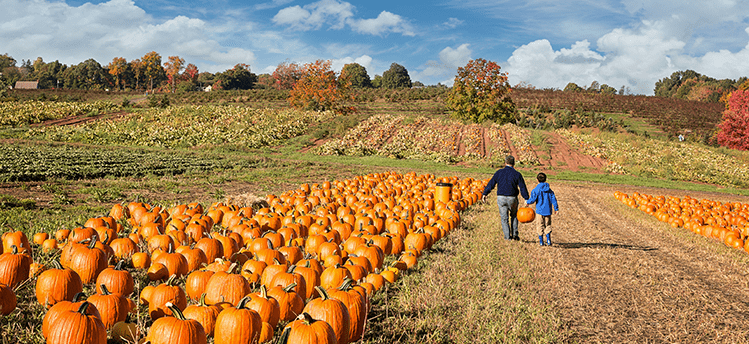 Setting up your own personal pumpkin patch is a family-friendly way to decorate your yard. If you're picking up pumpkins to carve, grab a few extra and arrange around them near the doorway. This is a quick and easy way to decorate for the occasion and doesn't require much extra effort or money.
'Tis the Season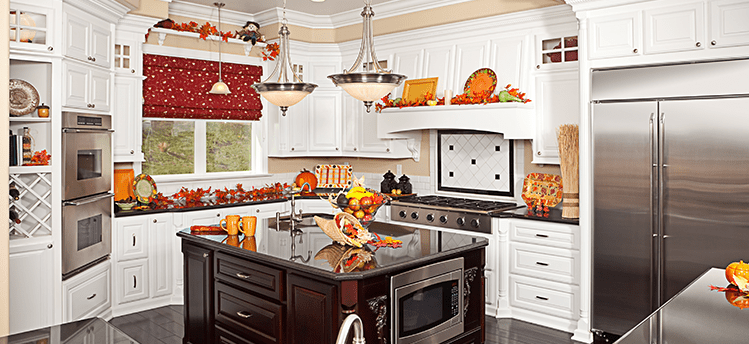 If you're not interested in Halloween-specific decorations, you can hang a fall-themed wreath on your door. Visit your local arts and crafts store and they should have plenty of options for you to choose from. A festive doormat matches well with a simple wreath and provides a welcoming feel for visitors.
Rock Climbing Skeletons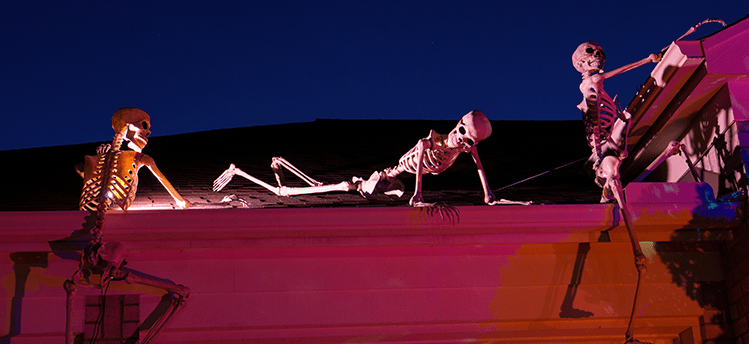 If you can find some decorative skeletons and have access to a ladder, you can arrange them to look like they are climbing the side of your home! The more skeletons you put up, the better! This is another fun and quick way to get your home ready for trick-or-treaters.
Painting and Carving Pumpkins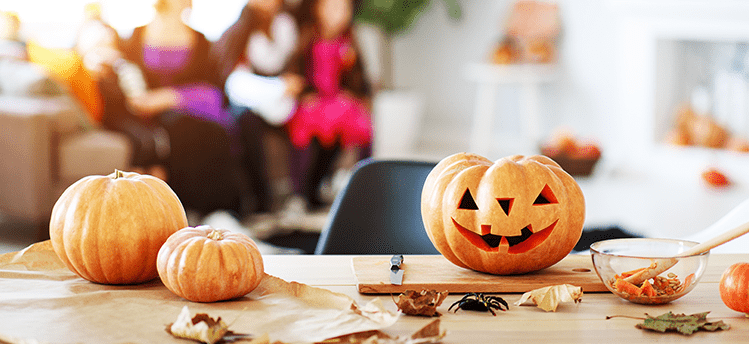 This is a classic Halloween tradition, but instead of carving or painting spooky faces – try finding a theme to decorate your pumpkins with. You can search online to find templates and designs that make creating custom pumpkins simple!  Find a theme that everyone agrees on and get to decorating – line them up in your mini pumpkin patch when finished.
Walk-By Movie Theatre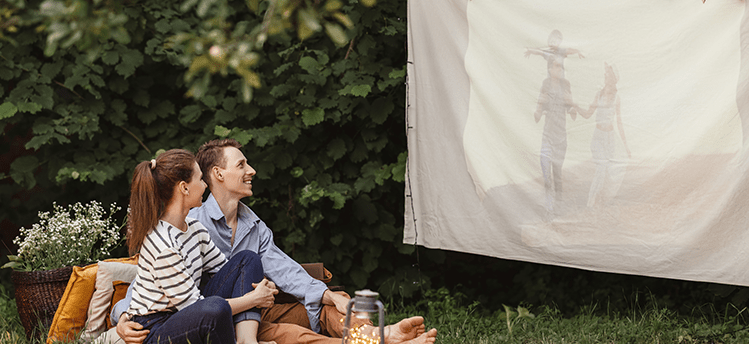 If you have a projector, you can screen family-friendly seasonal movies on the garage or side of your home! This is a simple way to provide extra entertainment or a quick break for those trick-or-treating and walking by. If you can't decide on a movie to show – consider playing some seasonal or popular music as well!
Buried Alive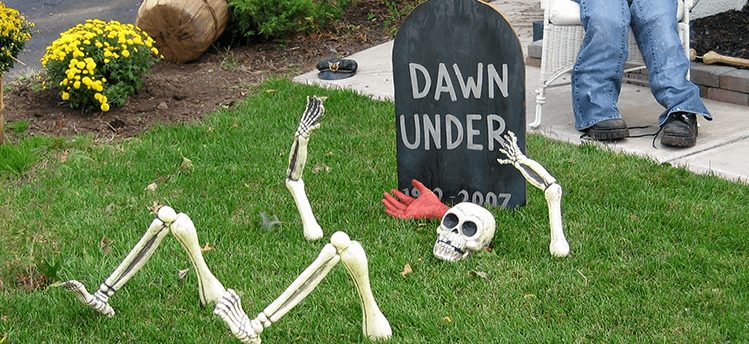 Speaking of skeletons – you can always pick up some skeletal arms and legs and position them to look like they are coming out of the ground! All you need to do is dig a couple of small holes and set them up accordingly. If you have a fake tombstone, you can set it up to look like a full grave! Add a fog machine to create a spooky front lawn graveyard.
Spiders and Rats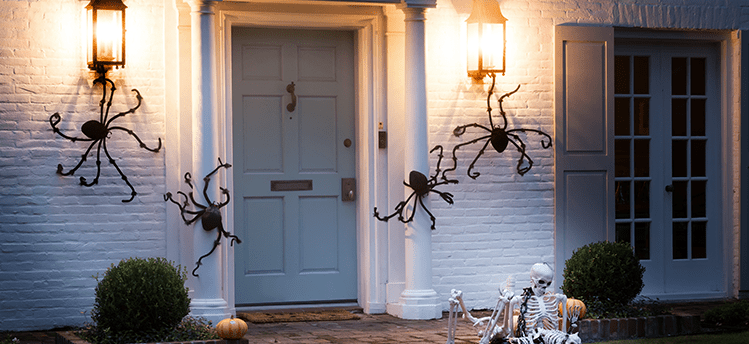 Hanging up fake spider webs is another Halloween tradition when it comes to decorating. Make sure you look out for real spiders when getting them situated on your home and lawn. If you'd like to go the extra mile, get fake but realistic-looking spiders and rats to patrol your walkways. Bonus points if you can find mechanically ones that move!
Ghostly Figures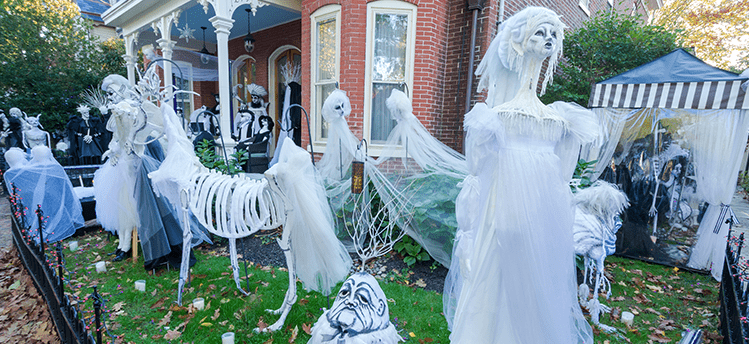 We could debate whether or not ghosts exist, but we can agree they make a great and easy lawn decoration. Find a couple of posts or poles and stick them on your lawn. Next, drape some white bed sheets over them to look like ghosts! Cut out some ovals using black construction paper and put them on to look like empty eye holes. Trick-or-treaters dressed as ghostbusters will be able to get a good photo opportunity with these decorations.
Feel free to mix and match some of the options from above! If you find the right balance of the decorations listed above, you can have the spookiest and most fitting home for the holiday! If you're having a tough time finding the right decorations for your home and lawn, check out what your neighbors are doing! They might have a theme for the block or a party of some sort planned for you to get ideas.