Basement Remodeling & Renovations: Ideas & How Tos
March 19, 2018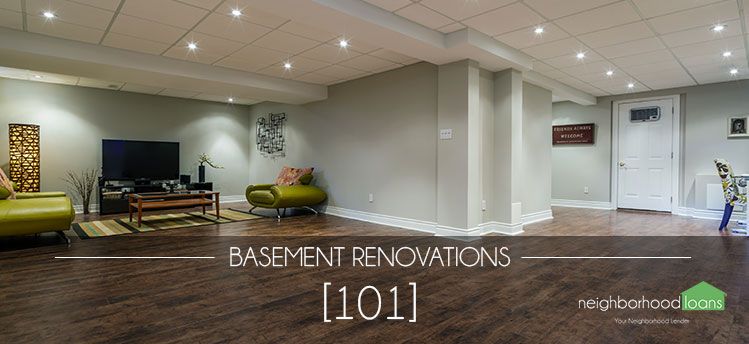 Finally, the movie that had you crying and laughing so hard is out on demand.
You and your friends immediately make plans to binge watch the movie at least 3 times.
Everyone is assigned a snack to bring and the dress code is strictly comfy clothes.
All that is left to decide is where to watch.
Without a doubt, picking a place always seems to be the biggest challenge when making plans.
But, if one of your friends has a spacious and luxurious basement with comfy seating and a large TV, odds are, they are automatically volunteered as the host.
Having a basement that welcomes a crowd and has special features like a home theater is a common trend among households.
Many homeowners desire to have that entertainment feature, so they have made the decision to renovate the basement.
As a first-time basement renovator, there are specific requirements, advantages and disadvantages to consider before breaking ground.
Welcome to basement renovations 101.
Know your building codes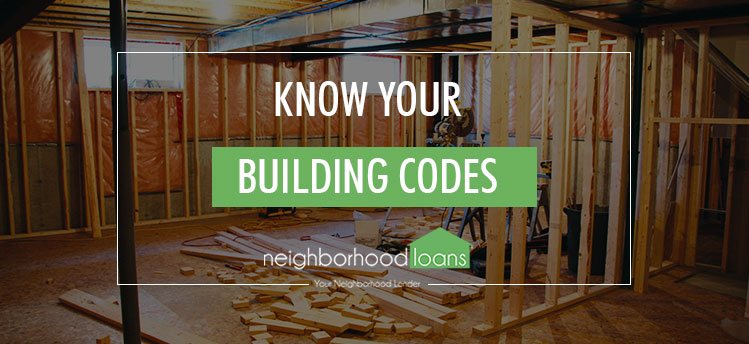 When building or remodeling a basement, it's important to freshen up on building codes to ensure the best results possible. By familiarizing yourself with building regulations, it will be easier to plan your project.
There are certain aspects that need special attention when remodeling. Some aspects could require permits, approval from your local building department or need to follow specific guidelines.
Insulation
Insulation and moisture barriers are often required by building codes.
Depending on your home's location, there may be a local or state building code that needs to be followed.
For example, there are limitations on how many inches off-center you can space studs and how much clearance you need for ceilings, landings for the bottom of stairs and height and depth of the steps.
Structural adjustments
If your plans involve adding support columns or load-bearing walls, you will need to get approval from your local building department.
This step is necessary because if a wall addition is built incorrectly, this can cause serious structural problems in your home.
For example, floors can deflect, walls could crack and doors may not close. It's a delicate and tricky project to dig deeper to create more space.
This renovation can be expensive and potentially damage the foundation and structure of the house.
To avoid these issues, a structural engineer can help analyze the space and suggest what structural changes are most effective.
Electrical
Electrical codes are extremely important to follow, especially for functioning and safety purposes. The national electric code requires outlets on walls every 12 feet, on any wall wider than 24 inches.
If electrical circuit breakers need to be installed, work with a certified electrician to do the work. They know how to properly install outlets, lights and circuit breakers with high voltages.
It is recommended to add a 15- or 20-amp circuit breaker to your electrical service panel to support your basement's electrical needs.
If adding lighting, ducts or a new ceiling, you want to aim for height of 8' and nothing less than 7'6". Higher ceilings are more appealing and create more depth in a room. If your basement allows it, between 9' and 10' is ideal.
Lighting is crucial when designing a space, especially in the basement. No one will want to spend time there if it is too dark.
Be mindful of artificial lighting and how to space them effectively. To make the basement more inviting, try to incorporate as much natural light as possible through windows and possibly atrium doors.
Permits
As expected when remodeling, you will need a building permit that legally allows you to make changes within your home.
Most permits require a drawn-out plan, along with an electrical plan.
Once your plan is made, your project will be looked over by a certified inspector which will review the building, electrical and plumbing in your home.
Does remodeling a basement add value to your home?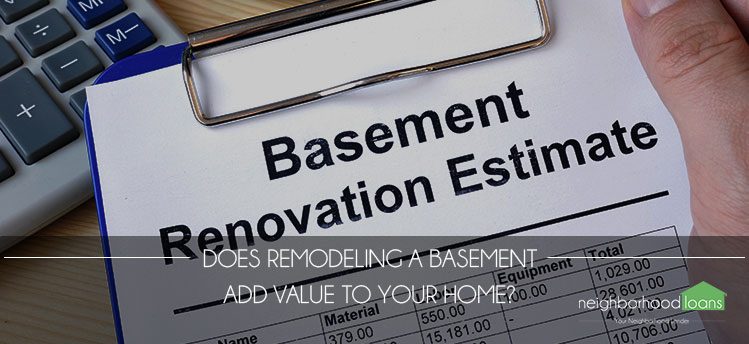 Depending on the buyer's wants and needs for a home, a finished basement can either make or break their interest.
If a buyer is in the market for a basement, they will be more drawn to homes with completed ones. On the other hand, if a home has an unfinished basement, this can turn them away entirely.
As a homeowner, if you are deciding whether to finish your basement, keep in mind basements are evaluated differently than above-ground space. However, the lower area of your home can increase the home's value, it just won't be evaluated the same way as above ground level.
The reason for this is because the living space above ground level is worth more. Building an addition to above-ground is far more expensive compared to building below-ground level.
Above-ground level building is costly due to construction of walls, floors, wiring, plumbing and roof. As for the basement, these amenities are already sorted out, making it less expensive.
Appraisers will factor this in and accordingly estimate the value of the home, primarily based on the above-ground area. If your home has a finished basement, appraisers will evaluate the space and create a new estimated market value.
Typically, the value of the basement is estimated to be ranging between 50 and 70 percent of the above-ground level value.
To get a better idea of what your basement will be worth, work with architects and other professionals. They will be able to provide you a clearer picture of how much value you can get from your renovations.
A word of advice: Don't spend more than 10 percent of your home's value on fixing the basement. It's best to stay within 5 and 10 percent. Especially if you are looking to receive a payback for your renovations.
If you are concerned about payback, it's best to renovate the basement that appeals to a wider audience.
Rooms that can reach that requirement includes a family room, guest bedroom or office. Having these features can appeal to any homebuyer and can increase the value of your home.
Different styles have different values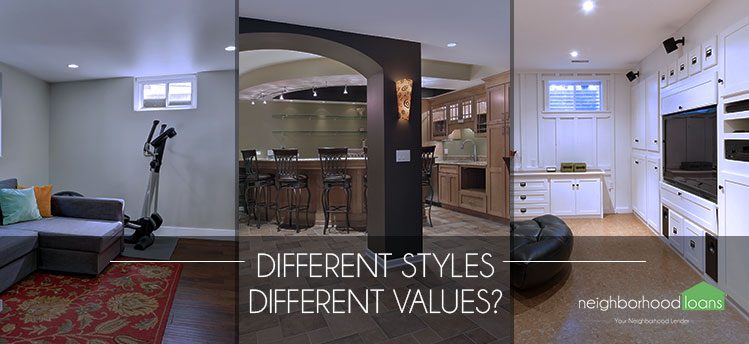 There are several different basements styles homeowners can choose from.
However, each finished space has a different impact on the value of the home. There are three layouts basements typically follow, which include the following:
Full walk-out basement
This is the most valuable and spacious type of below-ground living space.
Mainly because regular sized windows can be used, as well as sliding glass or atriums doors leading to a deck or patio.
Another advantage is natural light can be used, making this underground space feel not so secluded or hidden.
Partial drop in grade
Also known as the garden level, is very similar to a full walk-out basement.
The main difference is instead of looking out to the scenery outside, the windows will be showing the inside of a well.
However, depending on the grade of land, these basements could use normal sized windows and doors.
Non-walk-out basement
This layout has four concrete walls and no natural light, aside from the small standard windows, making it the least attractive to buyers.
If your basement fits this description, you can enhance the space by incorporating rooms and amenities everyone can enjoy, such as a theater, common area or workout room.
What are common finished basement features?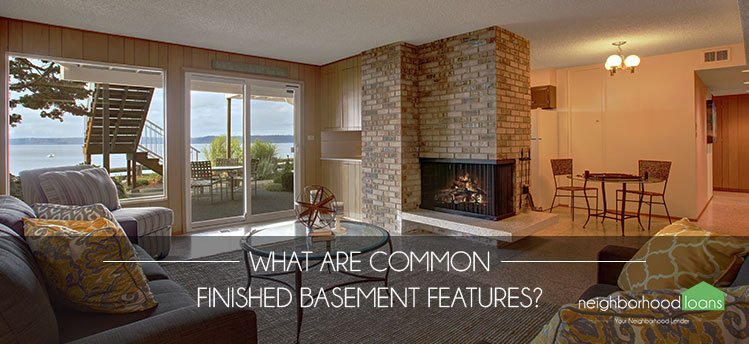 As basements are becoming a necessary addition to homes, they have become stereotyped to have certain features. Here are some popular spaces for a basement:
An in-law suite
Depending on your family situation, some people search for basements that offer a finished in-law suite for their parents so they can live with them.
Sometimes it's easier to find homes with an in-law suite in a finished basement opposed to adding it above grade.
If the home has a walk-out basement, it makes it easier for elders to walk in and out.
Lastly, check with your local building department if you are allowed to add a second kitchen. Some towns prohibit adding a second kitchen to a home.
Home theater
Many people have jumped on the bandwagon of incorporating a movie theater right in their homes.
This limits the need to purchase expensive tickets along with pricey snacks and treats.
Why spend more when you can have the same movie experience right at home?
Sports bar
If you look at any luxurious home, almost all of them have some type of bar in the basement.
This gives homeowners the perfect opportunity to host gatherings in a private and spacious area with good drinks and better company.
Exercise room
Depending on homebuyer's interest in exercise, a home gym can be very intriguing and economical.
This gives homeowners the convenience to work out right at home, eliminating the idea of signing up for a gym membership.
Wine cellar
If you are a wine enthusiast, take several trips to Napa Valley or import the finest wine from the Italian region of Tuscany, a wine cellar can be a beneficial investment.
This prestigious and commonly secluded area is used to store and protect the wine.
Guest bedroom
Somewhat similar to an in-law suite, but does not need to have the same features.
A bed, dresser, night stand and lamp can accommodate this room just fine. This room is perfect if you have occasional out of town visitors.
Should you still finish the basement even if you are selling?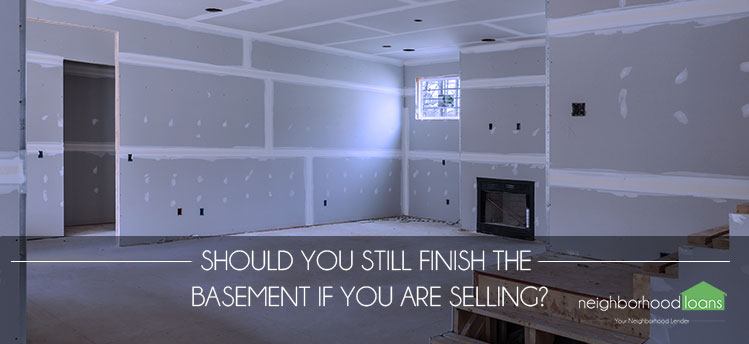 According to numerous reports, basements are not the selling point of a home when it comes to renovations.
As exciting and aesthetically pleasing it is to see a finished basement, these under-ground areas are not the final deciding factor on whether buyers will jump on this opportunity or not.
Depending on who your buyers are will determine how excited and intrigued they are by your basement's features.
If your basement offers a workout facility, home theater or wine cellar, it can raise interest in potential buyers wanting those amenities.
However, if you are planning on staying in the house for several years, you should renovate the home as you see fit.
As a homeowner, you should be happy in the home, meaning it should accommodate your interests and needs to make your living experience enjoyable.