Best Small Towns in Illinois
December 21, 2021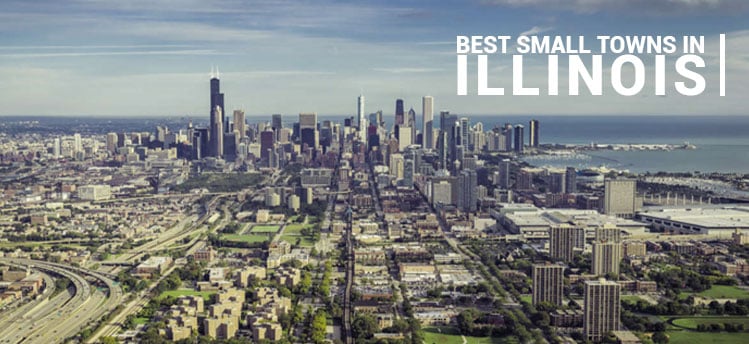 While a lot of people dream of moving to the city, there are a large number of homeowners that prefer to live in small, quiet towns. They can offer a peaceful surrounding, close-knit communities, and the property is usually cheaper. Regardless of where you live, it will come with pros and cons – but the small towns in Illinois make a great home for many.
Thankfully, most of Illinois is rural land and there is no lack of small towns throughout the state. To be considered a small town, we will be analyzing any town within Illinois that has a population under 20,000. There will be two sections of this list of small towns – one will be focused on small suburban towns within an hour of Chicago – the other will be small towns located anywhere in Illinois.
Small Towns Near Chicago
Small towns near Chicago are usually surrounded by larger suburbs and therefore the property values are much higher. If you're looking to house a large family for cheap, the more rural towns further outside of the city can offer that.
Long Grove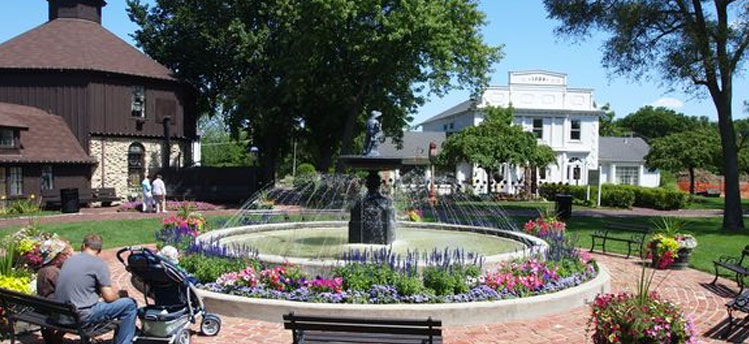 Long Grove is located roughly 40 miles from the city of Chicago and has a population of just under 8,000. 99% of the residents own their home but the average home price is much higher than rural areas at $657,000. Like most suburbs in Illinois, it is surrounded by larger neighborhoods and towns that don't give you that small-town feel.
Clarendon Hills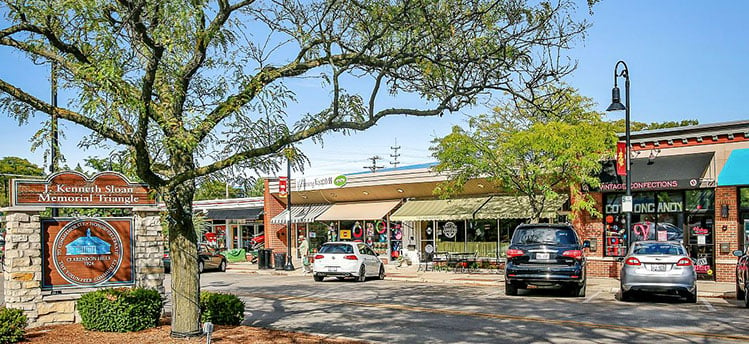 Clarendon Hills is another suburb of Chicago located around 20 miles outside of the city. This town is very similar to Long Grove with a population under 9,000. The median home value is lower at $560,000 and 85% own their homes. Both Claredon Hills and Long Grove offer a great community with access to anything you might need.
Hinsdale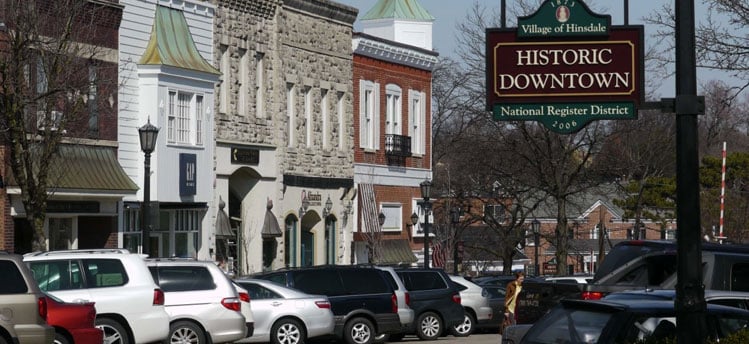 This suburb of the city may be well-known but has a population under 20,000. The average home price is high (over $800,000), but there are neighborhoods around it that allow you to share in the perks for a fraction of the price. It has a great school district and low crime rates.
Each of these towns has a handful of great perks and might be exactly what you're looking for. Being close to the city is one of them and the close by amenities that come with it are a bonus.
Small Rural Towns in Illinois
Glen Carbon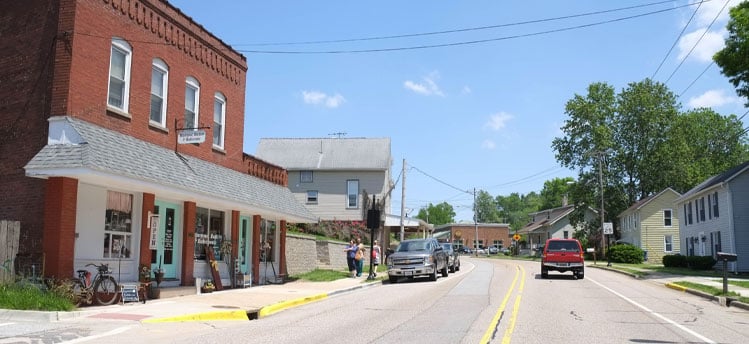 Glen Carbon is a small town in Southern Illinois with a population under 13,000. While this town neighbors St. Louis, it is about as far away you can get from Chicago without leaving the state. Property is very cheap in this area and there are great homes for under $250,000. Similar to the suburbs around Chicago, Glen Carbon is consistently recognized for its top tier school districts and has been around since 1864.
Columbia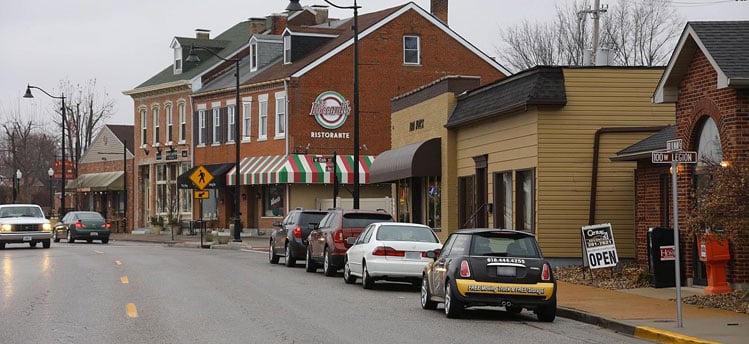 Columbia is another quiet corner in southern IL near St. Louis – it has a population of around 10,000. The median home value here is even lower at $214,000 making your dream home affordable. This town is known for its extremely low crime rates. Believe it or not, this is one of the best suburbs to buy a house in Illinois. Its residents are constantly giving it high ratings.
Dunlap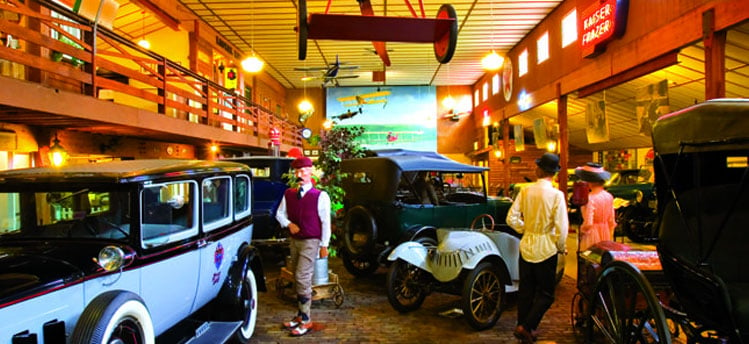 Dunlap is a very small suburb of Peoria, IL, and offers similar homes as above at competitive prices. The population is under 2,000 and the average price of a home is just over $250,000. This is truly a small and quiet town; it spans 16 blocks and there are only a few local businesses. If you're looking to lay low and relax, Dunlap is a great town for it.
Monticello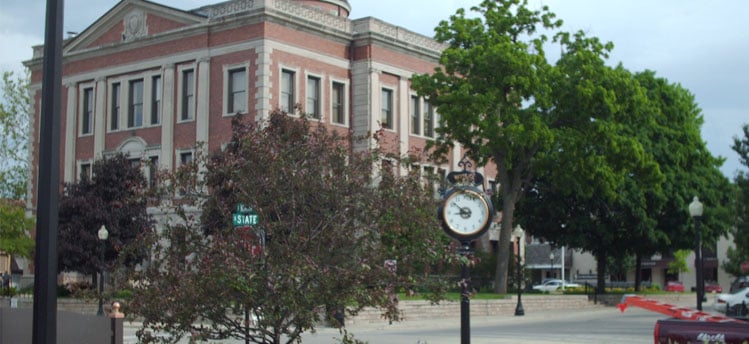 Monticello is a town with about 6,000 residents and is in the middle of Chicago, St. Louis, and Indianapolis. This town offers somewhat of a suburban feel and the median home value is below $200,000. It's a very safe town with consistently low crime rates and its residents say it's a great place to raise a family.
These are just a fraction of the smaller towns throughout Illinois. Do some research on the surrounding neighborhoods as well; they can offer similar features. If you have any home buying questions or would like to start the process today, reach out to Neighborhood Loans!