Best Suburbs to Live in Illinois 
December 21, 2021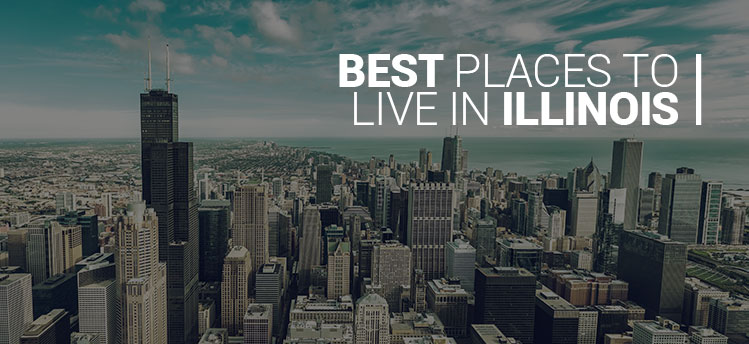 Illinois, nicknamed The Prairie State, is currently home to over 12 million residents. If you're looking to make a move and don't want to call the City of Chicago home, the suburbs are full of desirable places to live. Some perks the suburbs can offer are a high quality of life, premium school districts, and a growing job market. There are many different types of suburbs scattered throughout Illinois, some more expensive than others. Read below to learn about some of the top-rated suburbs in the state.
Buffalo Grove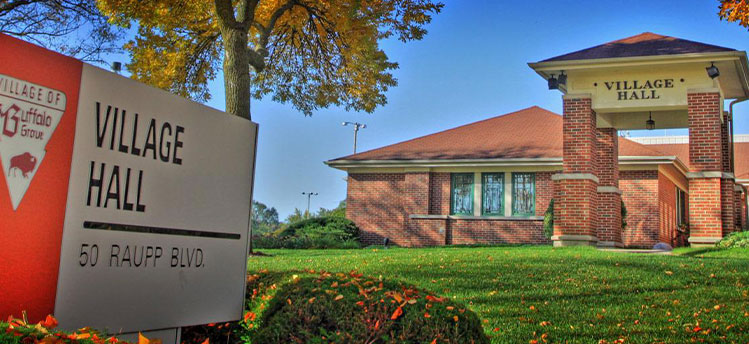 With a population sitting just above 41,000, Buffalo Grove is one of the top-rated suburbs to live in Illinois. Located 30 miles outside of the city, it is described as a mix of suburban and urban living. Roughly 80% of residents own their homes where the median value is $324,600. The average household income is $111,435 and the unemployment rate remains low at 3.3%. The town is well known for having great education and park district systems that offer a wide variety of programs. If you want your home to be in Illinois, this is a great place to start looking.
Naperville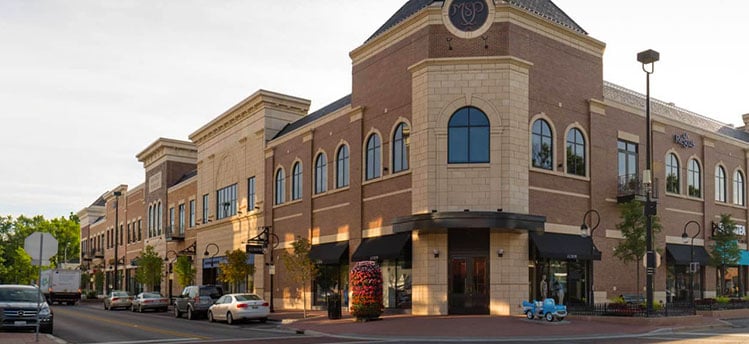 One of the largest and most well-known towns and Illinois, Naperville has a population of over 140,000. With a perfectly placed train station, you can commute to the city in under an hour. In this area, the average household income is around $120,000 but the median home value is roughly double the national average. With restaurants and parks stationed along the Riverwalk, Naperville offers a variety of nightlife for all ages. Full of good education systems for all levels, this suburb is constantly growing as a community.
Oak Park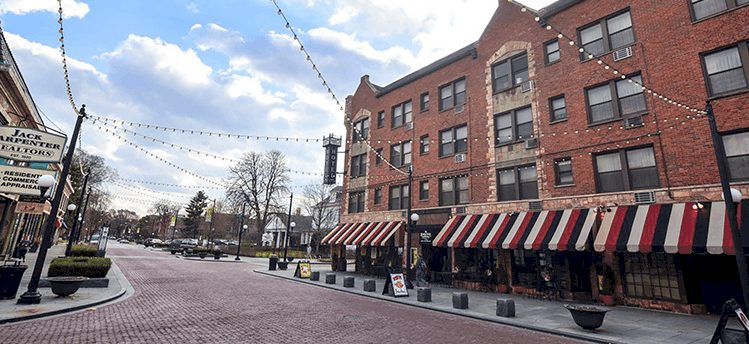 As a suburb of Chicago, Oak Park is a great place to live if you plan on working in the city. It was first settled in 1835 and now has a population of over 50,000. One of the biggest perks of Oak Park is the access to two train lines from the Chicago Transit Authority. There are both public and private schools in the area that are highly rated. The arts community is represented through many different cultures and Oak Park is home to many theaters, studios, and other businesses related to the arts. The average price of a home in Oak Park is right around $375,000 and over half of the residents own their home.
Western Springs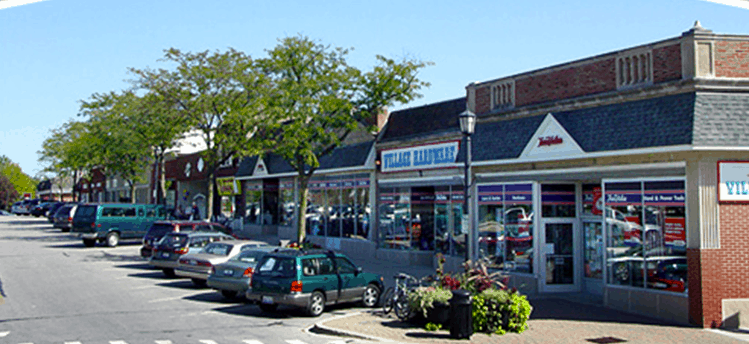 This neighborhood is a smaller suburb of Chicago with a population of under 15,000. The average value of a home in this area is much higher at roughly $600,000 and almost all of the residents own their homes. The area is known for having low crime rates and a great school district. It even has a twin city located in the United Kingdom! There are plenty of green spaces to take advantage of, along with two great recreational centers. If you can afford a home in this area, it's a great place to start your search.
Clarendon Hills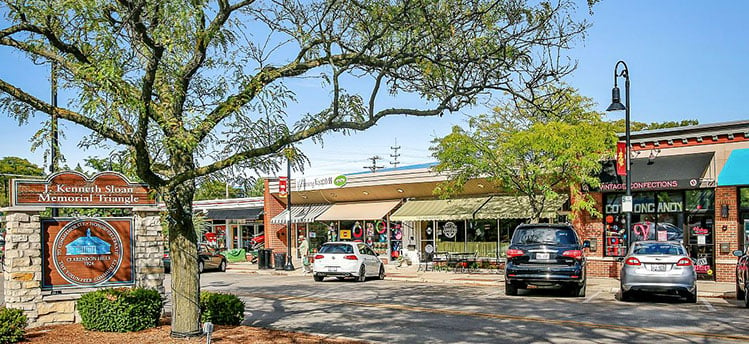 Next on our list is Clarendon Hills, a smaller town that's a little closer to the city. With under 10,000 residents, it provides a compact suburban feel. The median household income is roughly $126,000 with a higher median home value of over $500,000. Offering one of the best school districts in the state, Clarendon Hills is a trustworthy and safe town to purchase a home in.
Evanston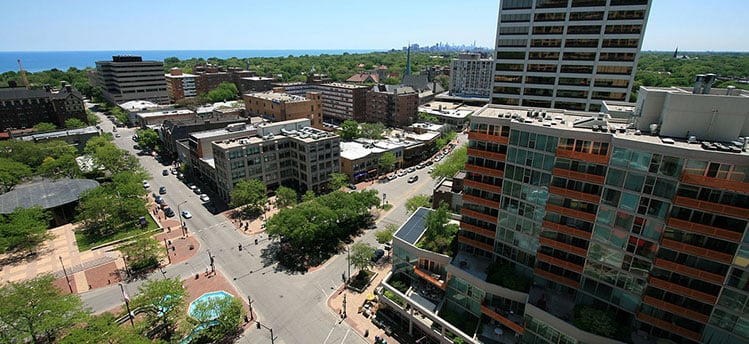 This is our favorite suburb that reminds us of the city. Evanston's population is around 75,000 and has a very urban feel. You will find many young professionals living in the area that have graduated from Northwestern University. The median home value is $380,000 and the average income is closer to the national average at $77,000. If you like the city feel, minus the large population, Evanston is the town for you.
Lake Forest
This town is true to its name, located right along lake Michigan and full of green spaces. Roughly 20,000 residents are living here and the neighborhood offers a sparse suburban feel. Over 80% of the residents own their homes as they tend to run upwards of $800,000 in this area, but the perks are endless. Full of great public and private schools, beautiful public areas, and very low crime rates, Lake Forest is a great suburb to live in.
Other Suburbs to Consider
Most of the suburbs mentioned above will fall within at least 50 miles of Chicago. There are plenty of other fantastic neighborhoods in other parts of Illinois. Check them out below.
Gurnee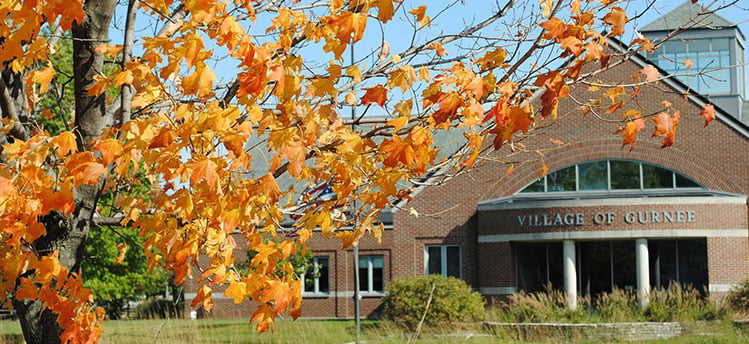 Just ten minutes from the Wisconsin border, Gurnee has a population of around 30,000. With Six Flags Great America and one of the largest shopping malls in Illinois, there are plenty of amenities to keep you entertained. The median home value is $250,000 and with highly rated schools and populated surrounding areas, Gurnee is a great option to stay busy with the family.
Springfield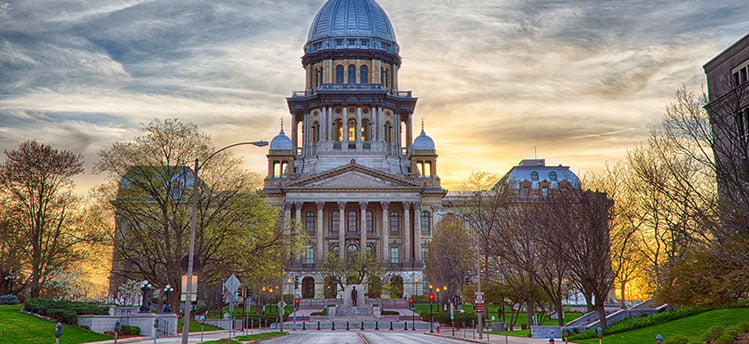 An outlier from the others, located in Southern Illinois and the state capital, Springfield has a dense suburban feel with over 100,000 people. This town offers a low cost of living and has many historic monuments and museums to explore. All levels of education are available and there are many industries to work in.
Bloomington 
This is a large suburb located north of the state capital with a population of almost 80,000. The average home value in the area is around $165,000. This is also a wonderful town to rent in because the rent is lower than the national average at $825. Bloomington has a downtown area that is on the National Register of Historic Places and offers a place you can "shop, dine, and unwind." There's plenty of different things to learn about this town, and living there can be rewarding.

Monticello
This is a town with about 6,000 residents and is in the middle of Chicago, St. Louis, and Indianapolis. This town offers somewhat of a suburban feel and the median home value is below $200,000. It's a very safe town with consistently low crime rates and its residents say it's a great place to raise a family.
The Chicago suburbs are home to many and if you'd like to explore more, the towns surrounding our list can offer similar features. If you want to start the homebuying process today, you can do so by filling out an application and getting pre-approved with Neighborhood Loans.