Condo vs. Townhouse vs. Single Home: Which One Is It?
September 21, 2017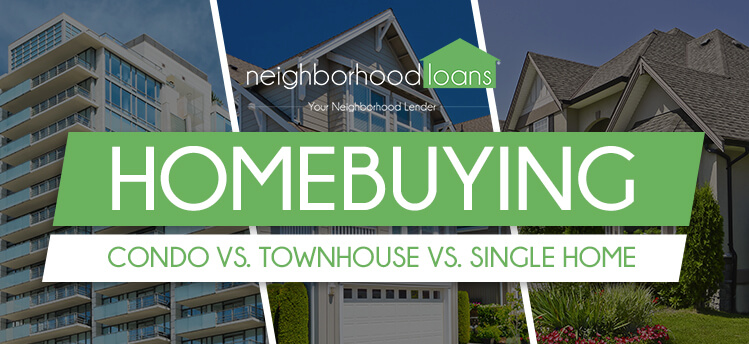 Are you thinking about buying a condo?
What about a townhouse?
Or a single house?
Any of these housing options are ideal and accommodating choices, however, they all offer different amenities, perks and require special financing.
If you are wondering what the main differences are between each, we have covered everything you need to know.
Condo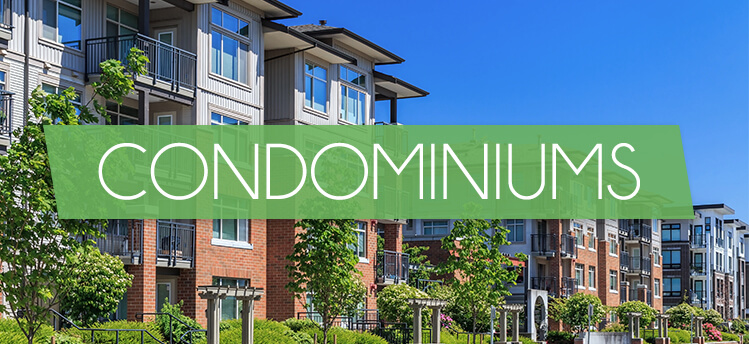 Structure – The structure and physical attributes of a condo are designed the same as an apartment. They both have a certain number of units within a complex for people to either buy or rent. However, there are many different styles of condos. For example, condos can be part of a large high-rose, a cul-de-sac of cottages or anything in between.
Ownership – The main difference from a condo and an apartment is the form of ownership. Condos give people the ability to own the interior space of that area, long with the spaces outside of it (i.e. halls, exercise rooms, parking garages, pool or the building's roof). All exterior parts of the building, such as the lawn or communal areas is property of the Homeowners Association (HOA).
Common Areas – Condos, also known as condominiums, offer residents several perks, depending on the complex. Some amenities include a club house, pool, golf course or an entertainment area. These areas are kept clean and maintained by the complex with money funded by HOA fees.
Land Ownership – When you own a condo, the interior space is the only area you legally own. No land is owned by a condo resident. However, condo owners are still obligated to pay property taxes.
Maintenance Fees – More often than not, condo owners pay higher monthly maintenance fees to cover exterior and community areas. The complex handles all maintenance issues and repairs throughout the building, also handled through HOA fees.
Privacy – This ultimately depends on the style of your condo. For example, condos can be extremely private or mirror the privacy of an apartment. Condos may even offer extra safety precautions, such as an electronic door lock system or video surveillance in common areas.
Homeowner Association (HOA) – Sometimes called a condo association, is intended to manage and maintain standards and amenities within the complex. An elected group of people is responsible for this duty by requiring residents to pay HOA fees. These fees are paid monthly and cover maintenance expenses for the complex.
Condos typically have higher HOA fees because condos share more common areas and offer luxurious amenities, such as an exercise room, entertainment area or rooftop. HOA fees for a condo also commonly cover other expenses like water, cable or internet service.
Like a large apartment complex, HOA fees cover basic maintenance work and then some. For example, leaky faucets, squeaky hinges or molding. HOA fees also preserve common areas and the building's exterior. Although these fees are higher, they take care of all repairs and keep the building in good condition.
HOA's come with a set of rules and regulations for buyers to abide by. The HOA board implements these rules for residents so everyone is happy and the building is well maintained. Before purchasing a condo, ask for a copy of the HOA's meeting minutes, financial statements, rules and regulations. These documents can be up to 50 pages in length, however, they are important to consider before buying. This tells buyers what they are restricted to and what is expected from them financially. HOA rules don't necessarily follow a strict set of rules, but some common regulations include the following:
Common area rules: If your condo has a shared common area for residents, they typically have set hours they are open. Along with regulations on how the space can be used.
Pet restrictions: This section dictates whether pets are allowed, the type of animal, weight restrictions and the number of animals allowed in one unit.
Trash/recycling rules: Notifies residents on where, when and how to place trash and recycling.
Decoration restrictions: Some condos have limitations on what decorations are allowed, such as Christmas lights. In addition to the placement of the decorations.
Cost – Similar to a conventional single home transaction, the cost of a condo depends on the location. Real estate for a condo should be treated the same, because the same finances are required to manage, such as property taxes, insurance expenses and home inspection costs.
Home insurance rates for condos are typically lower because owners are only responsible for the interior of the unit. If condo owner were responsible for the building's exterior and land, like a single home or a townhouse, home insurance would be higher.
However, mortgage rates differ from a single home or townhouse. Typically, people make a down payment of 25%, rather than 20%, making the upfront cost more expensive out of pocket. This expense can be traced back to HOA fees. These fees can range, however whatever you pay is most likely what you can expect. If you pay a lower HOA fee, chances are, the maintenance service is not good and certain repairs or amenities are not offered. Opposed to higher HOA fees, quality service is provided and luxurious features are included.
Townhouse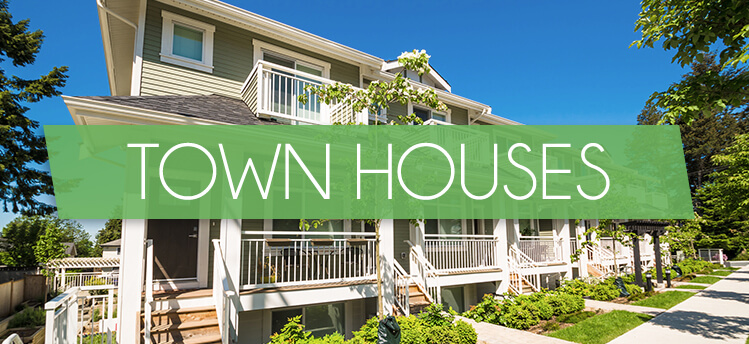 Structure – The structure of townhouses are constructed in a row of connected houses. Most townhouses are two or three-stories tall and shares at least one or two walls with other homes. Townhouses are usually built more narrow so they can fit more units within the row. Depending on the extra space available, some townhouses have a small backyard and front yard.
Ownership – A townhouse ownership includes both the interior and exterior of the home, meaning the roof, lawn and driveway is the homeowner's responsibility. Because this part of the property is owned by the primary resident, as needed maintenance repairs are handled on their own time and expense.
Common Areas – Although townhouses jointly share a wall or two, they are independently owned. Because they are considered to be their own entity, they have fewer common areas. A single townhouse may have its own yard, garage or parking spot, but it is not shared with other residents. Depending on the neighborhood, some communal townhouses offer a small playground, pool or park.
Land Ownership – In contrast of a condo, a townhouse resident owns both the interior and exterior of the property. So, it goes without saying, townhouse owners are required to pay property taxes.
Maintenance Fees – Townhouses also require residents to pay HOA fees, however, their monthly deductions are much lower. This is because owners are the primary caregivers of the property, inside and out. Residents are responsible for any maintenance issues or repairs, which can create costly out of pocket withdrawals.
Privacy – Because the structure of a townhouse is consistent throughout real estate, the privacy does not necessarily fluctuate by location. Although townhouses share at least one wall with a neighbor, the privacy offered is high. In addition, townhouse owners do not have unit above or below them, making privacy even easier to achieve.
Homeowner Association (HOA) – Like mentioned before, the purpose of the Homeowner Association (HOA) fees is to keep the property in wellbeing and fix any issues that arise. The main difference between a condo and a townhouses' fees is the cost.
The cost of HOA fees for a townhouse is less expensive compared to a condo. The reason for this is because townhouse residents take care of the property's welfare at their own expense. Whether the repair or attention is needed indoors or out, the owner will approach this problem themselves.
However, the features that is covered by HOA fees include trash removal or other routine maintenance work. Because HOA fees handle very little compared to a condo, townhouse owners are required to pay less monthly.
Just because townhouse owners pay less, doesn't mean they have fewer rules and regulations. Townhouses require residents to follow a set of rules, just like a condo. They may be slightly different, but many places commonly share similar expectations. For example, like mentioned above, townhouses will too, have specific rules regarding common areas, pet restrictions, trash/recycling rules and decoration restrictions. The only additional rule townhouses will highlight is ground restrictions. Some townhouse properties restrict owners from changing the landscape in their front yards. They may even prohibit painting of the exterior or changing the style of the mailbox.
Before purchasing a townhouse, you can request a copy of the HOA's meeting minutes, financial statements, rules and regulations. Again, this will give potential buyers a clearer picture of what they can expect from living in that property. It may be tedious to read, but it will help you realistically and financially plan your living situation.
Cost – Again, similar to a condo or single house transaction, the value of a townhouse will primarily be based off the location. Any real estate transaction should be carefully analyzed financially. The main difference between financing a condo and a townhouse is that a townhouse does not require a 25 percent down payment.
Townhouses also require other financial obligations, such as property taxes, insurance expenses and home inspection costs. In contrast to condos, townhouses may have higher insurance rates due to the resident's ownership of both the interior and exterior of the home.
As mentioned before, the cost of HOA fees for townhouses differ from condos. This appeals to potential homebuyers who are not necessarily willing to spend more than they have to. Especially if they don't rely on others or professional help to take care of maintenance issues or repairs.
Single Home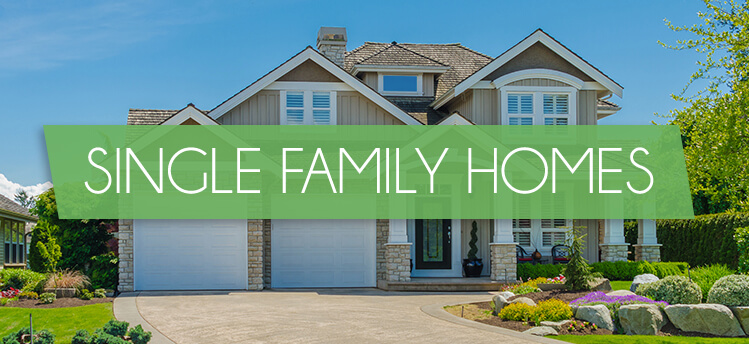 Structure – A single home, also called a single-detached dwelling, stands alone on one piece of residential property. This type of residency is ideal for families because it offers privacy, space and luxurious features. Single homes can be owned or rented, just like a condo, apartment or townhouse. The structure of a single home requires more time and materials due to its size and amenities included. Single homes can either have one to three stories, and in addition to a basement (space underground-level).
Ownership – One of the main attractions of owning a single home is owners have the freewill to design, change or customize as they see fit. This includes both the interior and exterior of the home. However, depending on the project, certain permits are required, along with an approval from your town or city's building department.
Common Areas – Many homes do not share communal areas simply because single homes are detached and reside their own land. Therefore, backyards, front yards and driveways are all owned and held responsible by the homeowner. However, if a single home is located in a gated community, most of the time, local parks, pools or even golf courses are offered to residents. Keep in mind, these areas will probably uphold specific rules to follow, such as open hours, number of guests allowed or safety regulations.
Land Ownership – Like mentioned before, single home owners are legally responsible for both the interior and exterior of the home. Single home owners are given the duty of maintaining the exterior, such as the building itself, landscape, fences or plants. However, be mindful of your property lines. You don't want to overstep boundaries into your neighbor's property. If these lines are unclear, consult with your neighbor to agree on boundaries.
Maintenance Fees – Because single homes are handled and maintained by the owners themselves, HOA fees are not applicable for this living arrangement. Meaning, all maintenance issues, repairs or damages are taken care of by the primary homeowner. This includes hiring any professional help and funding the expense out of your own pocket.
Privacy – The privacy a single home offers is another key attraction to buyers. Many people upgrade to single homes to get away from noisy and overbearing neighbors you may encounter in an apartment, condo complex or townhouse. Single homes have the most privacy among any residential building because they are detached pieces of property.
Cost – As a rule of thumb in real estate when financing a single home, its best to put a down payment of 20 percent. This is advised because mortgage interest rates will be lower and you will qualify for a better loan.
Although a single home will cost the most between a condo and townhouse, it can be a good investment. If you plan on living in this home for a few years, you can build equity, meaning you can increase the market value of the home. This is also a good approach to take if you plan to sell your home. If you remodel or modernize your home to current trends, your market value will increase.
Another financial aspect to consider when you are financing a home is the maintenance costs. Unlike an apartment or condo, you are your own landlord. Meaning, you are in charge of fixing damages or replacing any dysfunctional components. These expenses are funded out of your own pocket, as well as finding and scheduling professional help to assist you.
Don't forget about insurance expenses. Owning a single home is a huge responsibility, financially and maintenance wise. Purchasing homeowner's insurance is highly recommended to protect your home's foundation, assets and overall protection. Although certain insurances cover specific things and follow particular protocols, it is better to be safe than sorry.