11 Best Suburbs of Chicago
January 3, 2022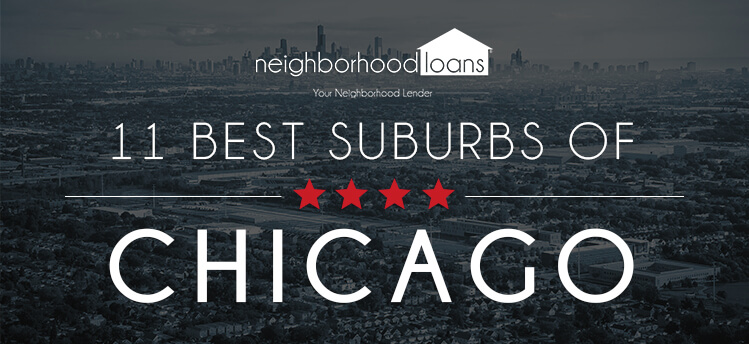 The city life – fast paced, bright lights and constant adventure. Who would ever want to leave when you have everything within arm's length?
However, as you get older, your priorities start to change.
Maybe you are looking for extra space to start a family.
Or want to get away from the clutter and noise.
Many people pack up and relocate to the suburbs to get just that.
Of course, it would be ideal to have the city life in a suburban home, unfortunately, we can't always have the best of both worlds.
Don't freak out, Chicago will still be a train or short car ride away.
Before venturing out to the suburbs, have you thought about which one may suit you best?
Each suburb has its own unique corks, amenities, demographics and attractions that truly differentiates itself from others.
If you are wondering which suburbs are the best, we've got the answers.
Before touring each suburb, check out this article on whether you should buy or rent in 2017.
More than 15,000 communities were evaluated by using demographic information and quantitative data to create this list.
The report done by Niche, collected its data from the U.S. Census, the Bureau of Labor Statistics and Centers for Disease Control.
After breaking down the data and comparing statistics, the 11 best suburbs to live in the Chicago area in 2017 are the following:
11. Glencoe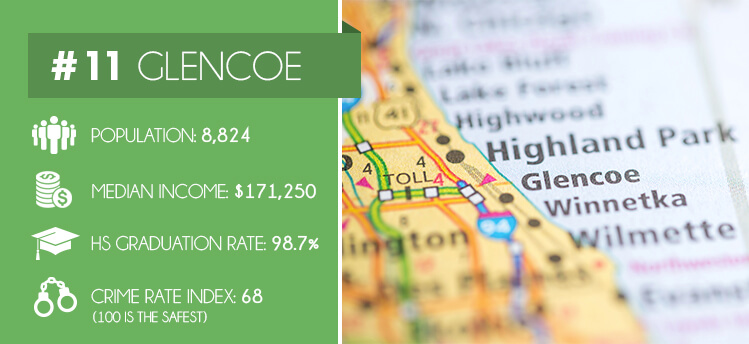 A village in the northern suburbs of Chicago that boarders the west side of Lake Michigan has much to offer. From three luxurious golf courses, to the scenery from Chicago's Botanic Garden and entertainment from Writers Theatre; Glencoe is the perfect place to relax and enjoy yourself. Glencoe also has top rated schools and various child friendly activities, making it an ideal place to raise a family. If you are in the area and celebrating a birthday, stop by Guildhall Restaurant for some European inspired dishes and refreshing cocktails in a bright and modern space.
10. Northbrook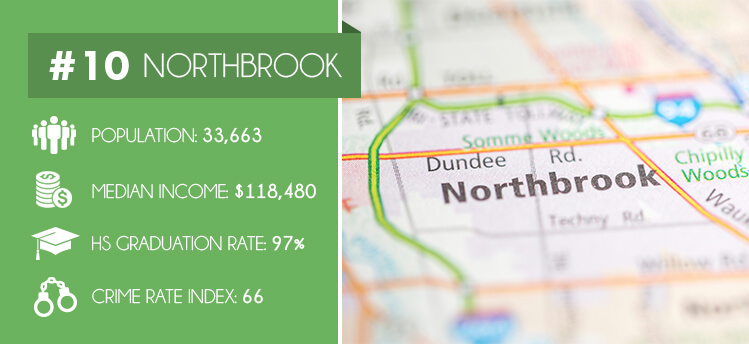 Located at the northern edge of Cook County, this Chicago suburb has a wide variety of shops and restaurants available. Downtown Northbrook is accompanied by local family owned stores, an environmental friendly park and the Metra, making it convenient for commuters and night owls to get to the city. If you ever make it to the 'brook, make sure to stop by Graeter's Ice Cream – it will not disappoint. Fun fact: several parts of the iconic movie, Ferris Bueller's Day Off, was shot in Northbrook. Anyone recognize Glenbrook North's stairs as Ferris picks up his girlfriend from school?
9. Wilmette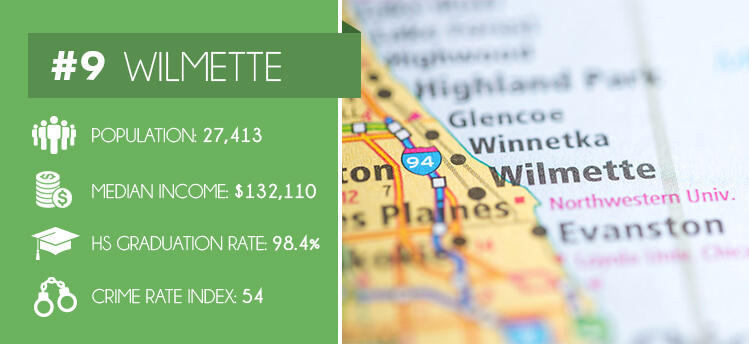 An inclusive, classy and small town of the northern suburbs, Wilmette offers a family-oriented lifestyle. This community thrives on bringing people together for charitable and civic organizations. In addition, the schooling system is highly ranked across the country. This north shore suburb even includes Gillson Park, a clean, family friendly and safe beach, great for enjoying picnics and Lake Michigan. Once you are done running around, make sure to grab a seat at Walker Bros Pancake House for a stack of their Original Chocolate Chippie Pancakes and Cheesy Hash Browns.
8. Western Springs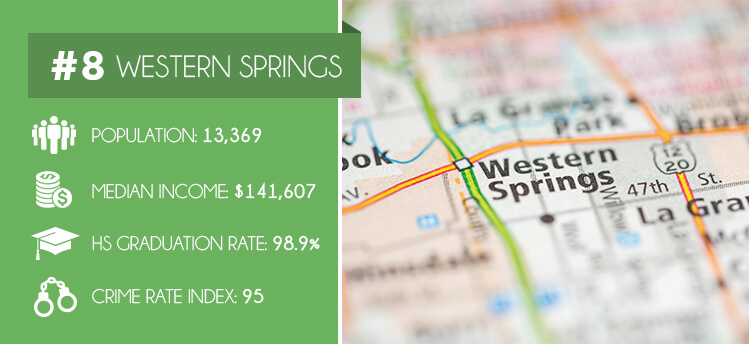 This small and quaint Midwest town offers it all – from several restaurants, to wine bars, to small business owned shops – Western Springs is a great place to live. This town has some of the best public and private schools in Illinois. This suburbs has little to no crime, making residents feel extremely safe. After exploring, be sure to stop by for a bite and a drink at the local Hillgrove Tap. This friendly and energetic restaurant provides delicious food and a beautiful outside patio.
7. Winnetka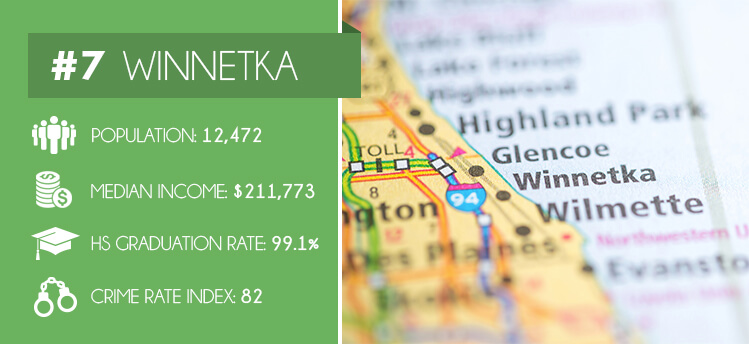 A prestigious and family friendly area that offers high quality living. Winnetka is known for their prosperity and beautifully constructed town. This village resides on the shores of Lake Michigan and offers competitive academics, sports and recreational activities for residents to take advantage of. Winnetka may be 16 miles from downtown Chicago, but the three platforms available makes it easy for people to get to the Windy City.
6. South Barrington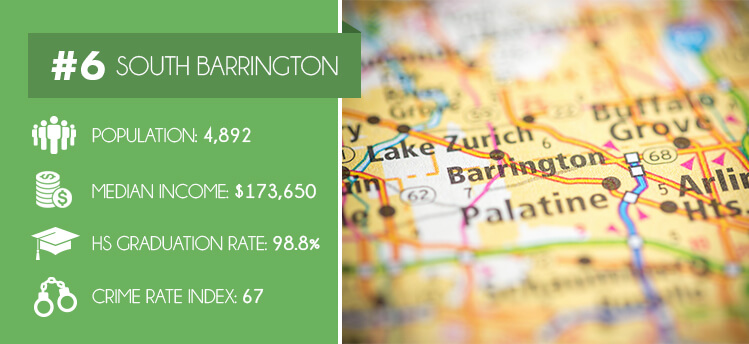 A village of Cook County, located south of Barrington, is a small and wealthy area. This suburb is the home to the famous Willow Creek Church that residents have come to know and love. Not to mention, South Barrington's newest and exciting shopping center, the Arboretum, is the town's treasured sanctuary. This is where you can find upscale shopping, excellent dining and a handful of entertainment venues for everyone to enjoy.
5. Hinsdale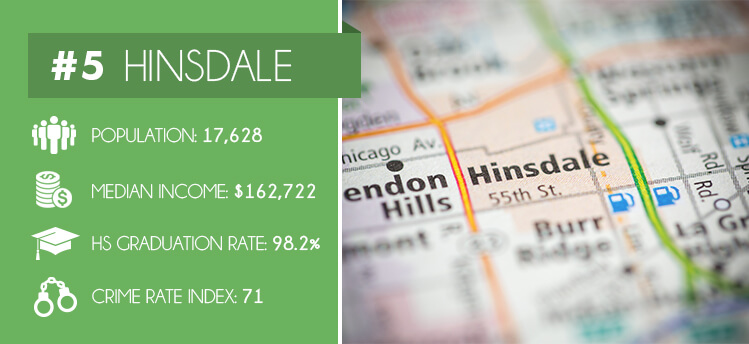 This charming, family friendly and accessible town makes the suburban life appealing to everyone. With Hinsdale being a short train and ride to the city, working professionals are easily able to commute. The schools available are excellent for all grades, which makes raising a family ideal in this western suburb of Chicago. In addition, the variety of shops, restaurants and activities available for residents is a big reason why people stay.
4. Long Grove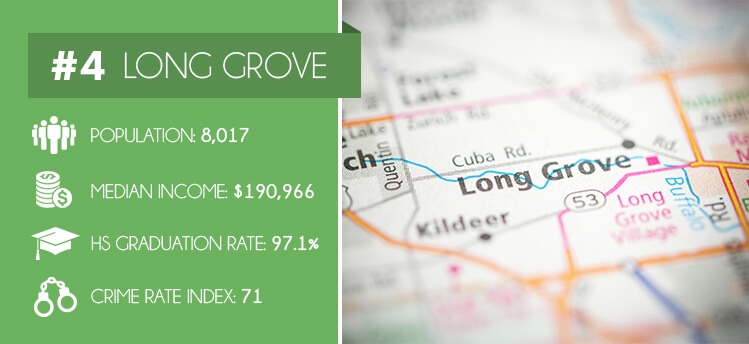 This Lake County suburb has a relaxed, diverse and friendly atmosphere people can't resist. Long Grove is embedded with rich history and seasonal events people from out of town come to see, such as Vintage Days, Irish Days or Chocolate Fest. This wide variety of original boutiques and shops in town are sure to please. Not only does Long Grove offer a cultural perspective, but delightful dining options, bars and taverns.
3. Clarendon Hills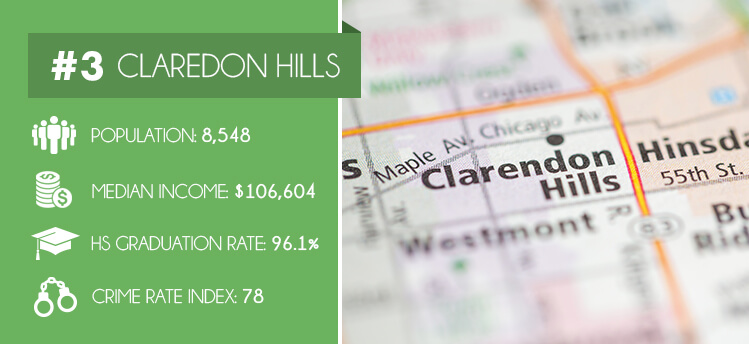 This village in DuPage County is a small, friendly and upper middle-class community. Clarendon Hills is filled with interactive people, great public schools and attractive housing options. The community offers an extremely safe environment, along with a vibrant downtown area aiming to provide a lively, educational and diverse lifestyle. If you are looking to get your Italian fix in, reserve a table at Zaza for an exceptional white-table clothed dining experience.
2. Naperville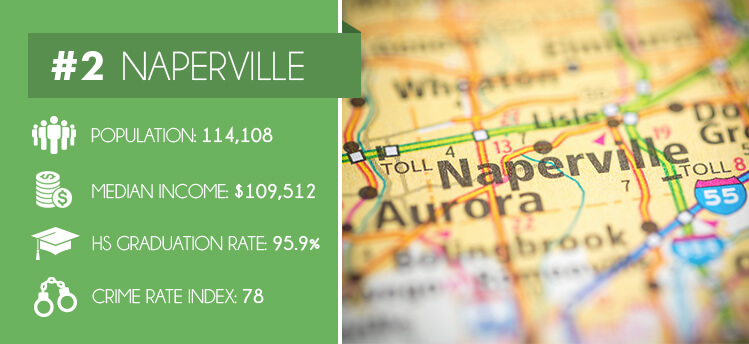 A highly populated, safe and wealthy city in DuPage County. Naperville offers a great public schooling system which makes the transition from high school to college a breeze. This vibrant and thriving community has continuously been ranked as one of Chicago's best suburbs due to its low crime rate, ability to raise children and variety of housing options available. If in the area, try and grab a seat at Catch 35 for a premier seafood experience you won't forget.
1. Buffalo Grove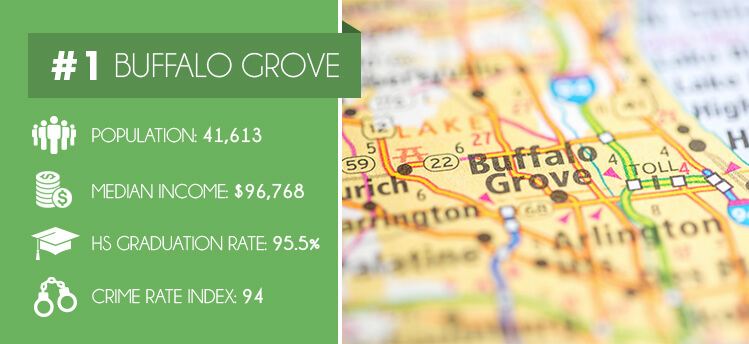 And Buffalo Grove, BG, is a town located in Cook and Lake County, known for its family friendly, charming and diverse atmosphere. This extremely safe area is filled with beautiful parks and several outdoor activities for residents to take advantage of. Buffalo Grove offers wonderful schooling options, recreational activities and a continuous educational experience. Not to mention, the variety of restaurants, shops and activities in town are very appealing. For example, the No Escape Room, is an evolving entertainment trend challenging people to find their way to freedom.