Things To Do in Chicago During The Holidays
December 22, 2020
Chicago has many traditions but some of them are unique to the holiday spirit. There are many activities and events to participate in across the city on and around Christmas Day. With the holiday season right around the corner, it's best to learn about what will and won't be available during winter 2020. As the pandemic continues to get worse, some of the traditional holiday activities were forced to move their efforts online or close for the year.
This year Christmas is on a Friday – therefore you might be more inclined to get adventurous.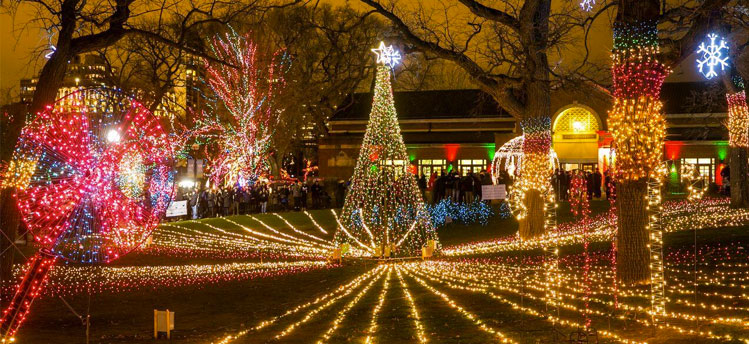 One of the most popular spectacles of the season is the beautiful lights that are put up throughout the city. You'll still be able to find them at the Lincoln Park Zoo and the Chicago Botanic Garden this year.
The Lincoln Park ZooLights will be available to the public from November 21st to January 3rd and there will be a $5 entry fee. According to the information provided on the website – City and State guidelines will be followed to ensure a safe experience that allows social distancing. The number of guests admitted at any given time will be monitored and groups cannot exceed 10 individuals. To purchase tickets or learn more about this event, visit their website here.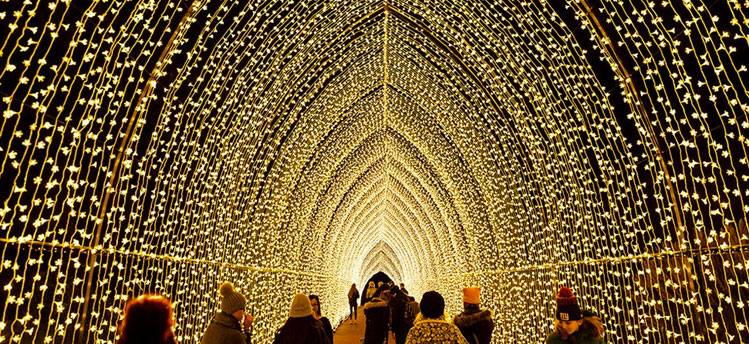 For a different lighting experience, visit the tunnel of lights in the Chicago Botanic Garden. In addition to the 110-foot light tunnel – there will be art installations, music, and more. It will be open from November 13th until January 3rd and is a little more expensive than the zoo lights – you can expect to pay an average of $20 per person. They will also be following City and State regulations to keep everyone safe. For more information on this light show, visit their website here.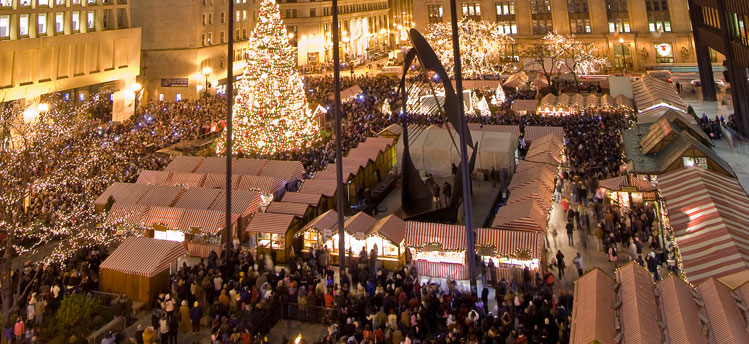 One of the more popular events of Christmas time is the German Christkindlmarket! Unfortunately, nobody will be able to attend in person this year. Instead, they are offering all of their goods for sale online. While this will never be as authentic as the real experience – you can keep your collection growing and participate in family-friendly events online. To get involved in the Christkindlmartket visit their website here.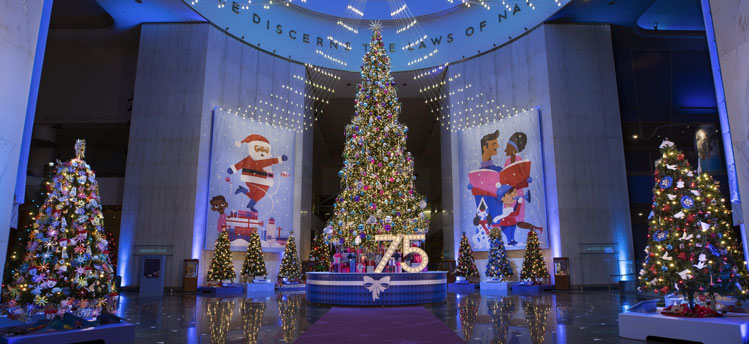 The Museum of Science and Industry has hosted Christmas Around the World event every year since 1942. They set up over 60 trees to display different cultures and holiday customs from around the world. While currently closed to the public – there will be virtual tours available online that include interactive family-friendly events. For more information on this event, visit their website here.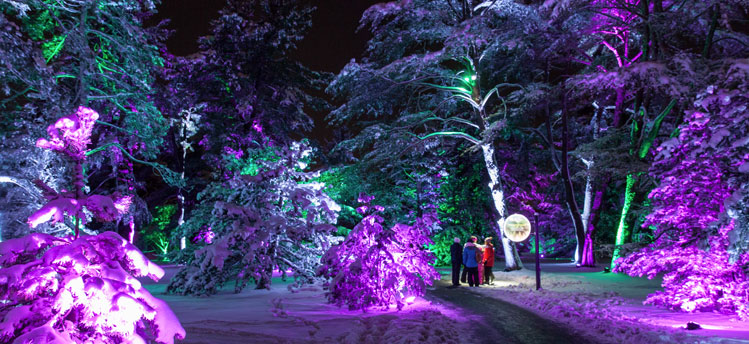 If you're looking for something to do in the suburbs – look no further than The Morton Arboretum. Just like previous years, they will still be hosting their event, "Illumination: Tree Lights" but as a drive-through experience. This is a one of a kind light experience and you won't find something like this in the city. For more information or to purchased tickets, visit their website here.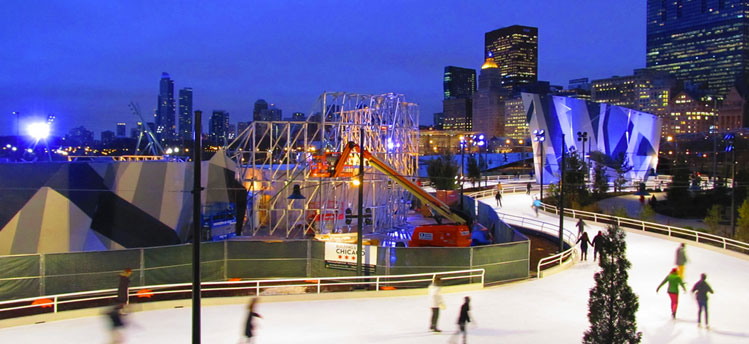 It's traditional to participate in some outdoor ice skating during the holiday season and fortunately, you still can this year. The Ice-Skating Ribbon located in Maggie Daley Park is open to the public. There are some restrictions and you must register online – but this is one way to get your seasonal ice-skating fix in. To learn more or sign up, visit their website here.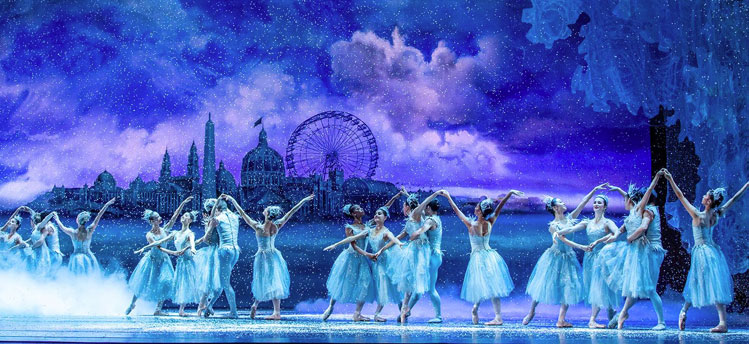 If you've experienced The Nutcracker before, you know what a traditional holiday performance it is. Like most events – it has been moved to an online experience this 2020. If you purchased a ticket for the live event, the Ruth Page Center for the Arts lists two options to refund your ticket. To learn more about their virtual event or purchase tickets for it – visit their website here.
The Holly Jolly Drive-In being hosted by Replay Lincoln Park is offering a drive-in movie with a visit from holiday characters in costume. According to their website, "Your experience will be enhanced with twinkling decor, live elves, The Grinch, of course, Santa and Mrs. Claus and many other favorite characters. Admission is per car and means you can bring unlimited guests with just one ticket per car." To purchase tickets or learn more – visit their website here.
Manual Cinema's Christmas Carol is another virtual event that is approved for an audience of all ages. Their website states, "In this world premiere online event created for audiences of all ages, interdisciplinary performance collective Manual Cinema takes on Charles Dickens's holiday classic with a visually inventive adaptation made to broadcast directly to your home." This one-of-a-kind Zoom event is one hour long! Visit their website to buy tickets here.
Head over to Soldier Filed and visit Santa's Garage to, "Join Santa and his Elves for a festive winter wonderland drive-in experience." This experience will feature magical light and tree displays, inflatables of the most popular Christmas characters, photo opportunities with Santa, and other activities. They full experience should take almost an hour and is located in the upper deck of the Waldron Parking Garage at Soldier Field's South Lot. To purchase tickets and get more information on this event – visit their website here.
The Jack Frost Winter Village in Chicago is back for 2020 and, "Although it won't be the same as years past, we simply couldn't resist offering something everyone needs right now, a fun place to buy your seasonable Holiday selections with Friends!" This event takes place on over two acres of land in the historic Goose Island and is a great place to pick out your Christmas tree or take festive pictures. To get involved and purchase tickets – visit their website here.
If you're struggling to find a Santa Visit event near you – check your local Bass Pro Shop for Santa's Wonderland. Due to public demand – they will be hosting their Christmas tradition in a safe and responsible way up until December 24th. You must make a reservation online and bring your confirmation to check in. For more information or to get registered – visit this link here.
If you're looking to spread some Christmas joy or are in the giving spirit – there are some volunteer opportunities in and around the city. 2020 has been a difficult year for many reasons, and there are a lot of people out there looking for extra help!
Check out Operation Santa – a program set up by the US Postal Service that helps spread holiday joy. They receive an insane number of letters to Santa and have now created a way to let others help them out. If you're interested, you can head over to their website here and sign up to 'Adopt a Letter.' This will pair you up with a letter to Santa and allow you to respond and send a gift back.
If you want to help the hungry – Organizations like the Greater Chicago Food Depository and the Lakeview Pantry are always looking for different types of helpers. Whether it's donating canned goods, helping pack and deliver meals, or just spending time with those who need it – there are many different ways to get involved.
Overall, it looks like this holiday season will best be spent at home with those who are closest to you! With no end in sight to the current pandemic, many of Chicago's traditional holiday events have been put on hold. Don't let it stop you from getting into the holiday spirit!