What Makes a Real Estate Flyer Amazing?
June 10, 2015

As a realtor, you always welcome any effective marketing opportunities to grow your business.
One of the most traditional ways of doing this is through sending a flyer and the technology available allows you to take your flyers to the next level.
And all at little or no cost to you.
Sounds good, right?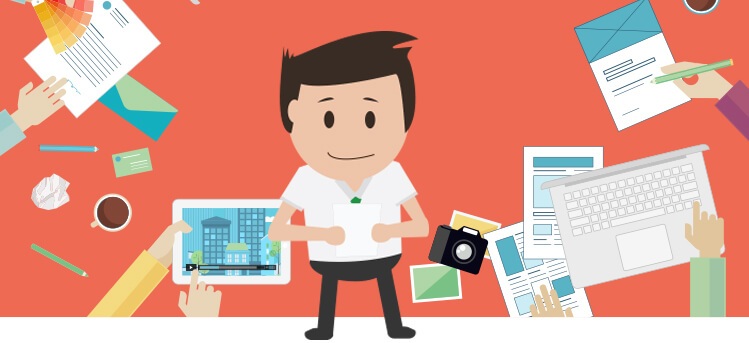 With the endless amount of templates and graphics available online, almost anyone can create an effective flyer for their real estate business, regardless of their design experience.
So why not put your marketing plan into action by starting with something simple, yet effective, like an attention-grabbing flyer?
Why should I use flyers to promote my business?
To get business, of course. And yes, it is that cut and dry.
Even with all of the technology available today, everyone still goes to check their mailbox every weekday afternoon.
While you might think that it's all about taking advantage of technology like email and social media, you can't forget about the traditional methods that prove to remain they're still effective because, believe it or not, there are still home buyers out there that don't use the web.
With that said, people love receiving mail … well, aside from bills.
They also love to immediately toss anything that looks like junk.
If you want your flyer to avoid the trash, you'll need to step it up and create something worth bringing inside to the kitchen counter.
How graphics can help your business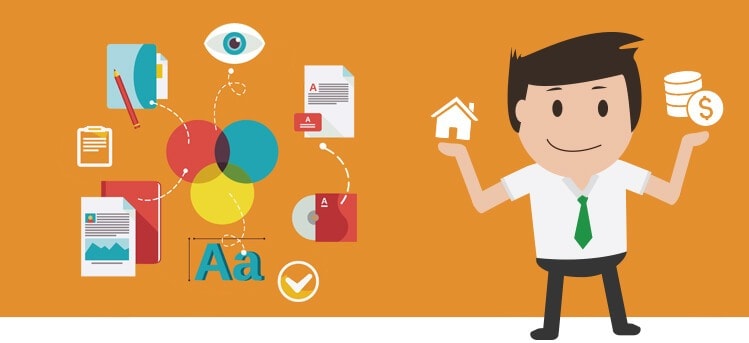 You care about creating a great first impression on this flyer, and you won't allow it to be without eye-catching graphics and boring text, right? Right.
If you want your flyer to be something that your receivers won't immediately toss into the trash then you'll need to ensure you have the right graphics and content.
So, how can graphics help your flyer to succeed?
The use of graphics on your flyer helps you to:
Engage your audience
Even if you plan on sending your flyer via mail, it wouldn't hurt to share it through your social media as well.
If you want your audience to engage with your flyer, think about who your target audience is (in this case, it's likely the buyers) and tailor your graphics to meet the wants and needs of that particular audience.
Yes, you're going to include photos from the listing, but why not tune into your creative side and include a little something more, like a relevant quote, unique features of the listing or a helpful home buying tip?
When you think about real estate flyers, you think of a few select photos, some call-to-actions and the realtor's contact information. While that's all well and good, try and think of ways to take it up a notch and get your target audience to take a second look.
Generate Leads
If this isn't the sole purpose of your flyer in the first place, then what is?
You're probably thinking this point is obvious and isn't worth mentioning. However, generating leads is not as easy as creating a simple flyer, sending it away and crossing your fingers for the best.
If you want to gain leads from your flyer, the graphics and content you use are the deciding factor.
Buyers like simplicity, so give them the facts that they need to know along with the right people to call to save them some work.
Also, if you include a link to your website, make sure that buyers can easily reach you through that website as well.
Influence Buyers
Take a friendly and personable approach when creating your flyer to influence your audience to make decisions regarding your sale.
Don't just tell them that it's a spacious home, but tell them that it's the perfect size for a family and entertaining. Don't just say that it's in a great location, but name off a few local places that make this the place to be.
As a realtor, you already know that location plays a huge role in a home sale, so why not play this up?
The must haves on your flyer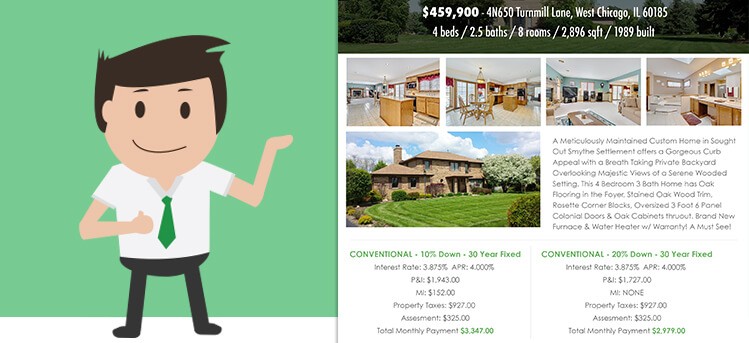 Take some notes here, because the following elements are what you'll need to have on your soon-to-be successful real estate flyer:
Headline
This is your attention grabber, so make your headline strong. This is the first thing a potential buyer will read, and you'll need to write something that will pique their interest, making them want to read more.
Sub-headline
When you create an attention-grabbing headline, the sub-headline will help to reel in your audience. These headlines are a great way to add a bit more detail about your listing.
Try a sub-head along the lines of:
"Just Listed", "A One-of-a-Kind Modern Home", "Exclusively Listed", etc.
Address
It's extremely wise to include the address of the property, so the buyer knows where they could be moving to.
Price
Putting the listing price on the flyer is debatable because some realtors prefer to have the buyer contact them for the information, while others would prefer to tell them on the flyer (usually if it's selling for a great price). Whether you decide to include the price or not, the choice is yours. However, make sure that it's clear to the potential buyer on what they can do to find out the price if they're looking to take the next step.
ie: "Contact_____for current price", "Price is available upon request", "Offered at $250,000 or best offer", etc.
Property Description
This is your best opportunity to sell the home, so don't miss out on this step.
The first sentence of your listing should get straight to the point on what your ad is all about. Your goal here is to immediately inform your target audience of what they're looking at.
Try an opener along the lines of this:
You'll fall in love with this 3-story townhome located just 3 blocks of Millennium Park in Chicago.
Once you've nailed your opener, it's time to emphasize the finer features of the listing.
Does your listing include a newly renovated space, or vaulted ceilings throughout? If so, then this is the place to brag about it and capture the interest of your buyers. Be careful not to overpromise though!
Oh, and avoid the following:
Typing your description in all caps
Abbreviating words that won't make sense to the reader ie: 3BDR, 2BTH, W/VLTED
Creating a description that's too long to read (it will quickly bore buyers)
Bullet points
Try not to confuse your bullet points with the property description. Your bulleted list should be for features like the number of bedrooms and bathrooms, and the square footage. If anything stands out about the home, like the location or upgrades, then feel free to include these as well.
Photos
You won't grab the buyer's interest if you don't have photos.
Choose a few best photos of your listing and place them creatively on the flyer.
Try not to go overboard with the photos by creating an entire collage. The idea here is (once again) to pique the interest of the buyer. This means avoiding the use of any unnecessary photos like random walls and shots of the floor. If you want to grab the buyer's attention, you'll want to choose some of the top photos to do so.
Don't use any photos like this: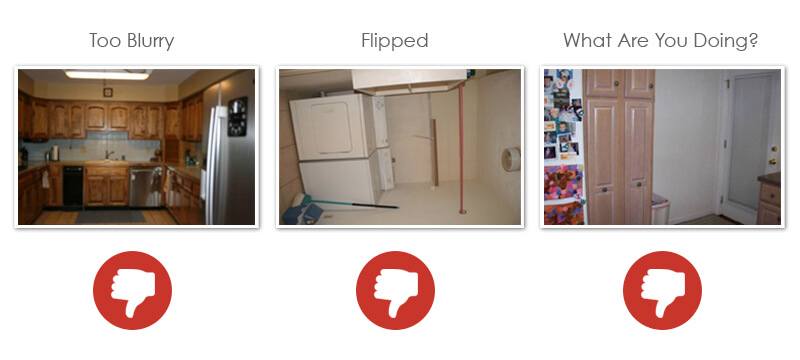 Use this instead: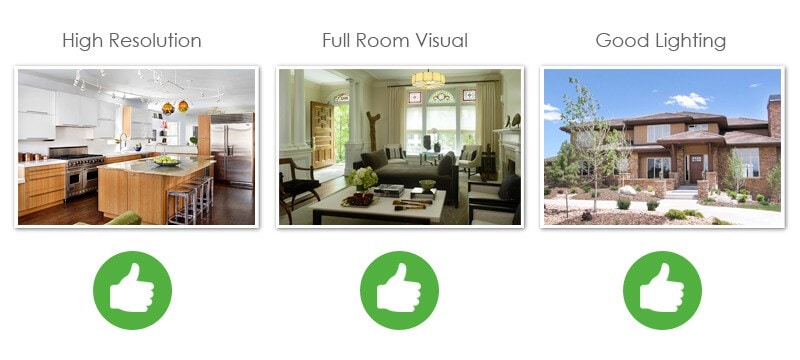 Also, keep in mind that your photos are what should stand out. With that said, use a muted color scheme for your flyer if you have colorful photos. If you have images that aren't as colorful, you can go ahead and use a little more color for the flyer design.
Whatever you do, keep it simple.
Contact Information
Now that your buyers have fallen in love with the listing, who are they going to call to take the next step?
You, of course. Be sure to include a friendly headshot of yourself and all of the necessary contact information for buyers to reach you. Make it simple for them to get the needed information.
Advertising disclaimer
Your disclaimer will generally be placed on the bottom of your flyer in a small font.
Your disclaimer will protect you from being sued.
Note from the expert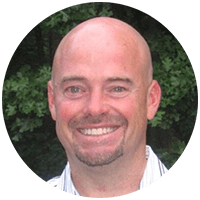 In an effort to get additional opinions on what makes a real estate flyer great we reached out to top Ashland Massachusetts Real Estate Agent, Bill Gassett of Maximum Real Estate Exposure. We thought Bill would be a great person to ask because of his offline and online real estate expertise. Bill has been in the business for nearly thirty years and is well respected in many real estate circles. Take it away Bill!
"Guys thanks for having me share my expertise on real estate flyers – it is much appreciated! One of the first things I would mention is to make sure you have good quality stock that your flyer will be printed on. This will be one of the first things a buyer or seller notices. Remember as a real estate agent you are always being graded on the material you produce. It says a lot about how much effort you put into selling a home. This is where Realtors can separate themselves from being considered just average!
The flyer itself should have an attention grabbing headline that is bold or even a different and larger font that the rest of the copy. This should really set the tone for the message you are trying to deliver. It goes without saying that the photography needs to be exceptional. There is no point in putting a flyer that stands out because of its quality and print only to have the pictures take a backseat. This will absolutely destroy the overall beauty of the brochure.
Lastly, I see far too many real estate agents just focusing on homes when creating brochures. One of the best ways to gain business is to show off your real estate expertise. Instead of creating a flyer showcasing one of your listings, try making a flyer that shows the world your expertise on some subject matter. Maybe you are good at selling luxury homes? Could you be a first time home buyer expert? Maybe you got a real knack for home staging? These are all great subject matters you can cover in a colorful and professional real estate flyer!"
Quick Design Tips
In terms of design, here are a few tips to take note of:
Keep your design clean
Avoid using more than two fonts for your flyer and anything else that makes it appear too busy. The point of your flyer is to grab their attention: not confuse them!
Don't forget white space
If you think having white space is boring, then think again.
A little white space here and there is actually good for your flyer, because it provides your target audience with distinction from headlines, photos, and content.
Less is more
When it comes to both your photos and content, less is always more. Avoid overwhelming your flyer with too many photos and a property description that could sell as a novel. Don't lose sight of your goal to keep them wanting more.
Always proofread
A flyer with typos, spelling mistakes and grammatical errors is not only embarrassing to you, but also unprofessional for your business. Have a second pair of eyes to look over your work.
Where to create your flyer
Do you have a good idea of what to put on your flyer now? Good, now let's get to the fun part.
If you want a more professional look, consider hiring a graphic designer for the task. With their knowledge and expertise of the Adobe Suite, they can create a completely custom flyer based on your needs and wants. This will likely be at a cost to you, but can be a great option if you're looking to standout among the competition and create a flyer that's completely customized to your wants.
A successful flyer should have the following:
High resolution Images
Necessary information
Professional written property descriptions (No abbreviations – It looks unprofessional) i.e.: Bth Rm = Bathroom
Loan payment options (Buyer will gain a better sense of the expenses) i.e.:

Price: $250,000
Single Family Home
5% Down | $12,500
Principal/Interest: $1,133.00
Insurance: $80.00
Taxes: $250.00
MI: $106.88
Total: $1569.00 / Month
Having this information can help put finances into perspective for a buyer, which can then influence them to move forward with a listing inquiry.
When you choose a graphic designer for the task, you won't be limited to a template, and it will save you a lot of time if you're on a tight schedule.
If you're looking for a unique design with high resolution that doesn't look like everything was thrown into a template, then consider a graphic designer.
Are you looking for more of a D.I.Y. approach to this?
If you need to brush up on your Photoshop and InDesign skills, don't worry because there are multiple websites online that offer free flyer templates and are simple to use, even for those of you that have never used a graphic design tool in your life.
Canva
Not everyone got an A+ in art class, and thankfully, Canva understands that.
If you're looking for a design site that's free (for the most part) and simple to use, then Canva is a great resource for you.
When you create a free account with Canva, you can easily choose the Real Estate Flyer template and get started.
You will find it on the design screen here:
Here's where you choose your desired template (You can even customize your dimensions)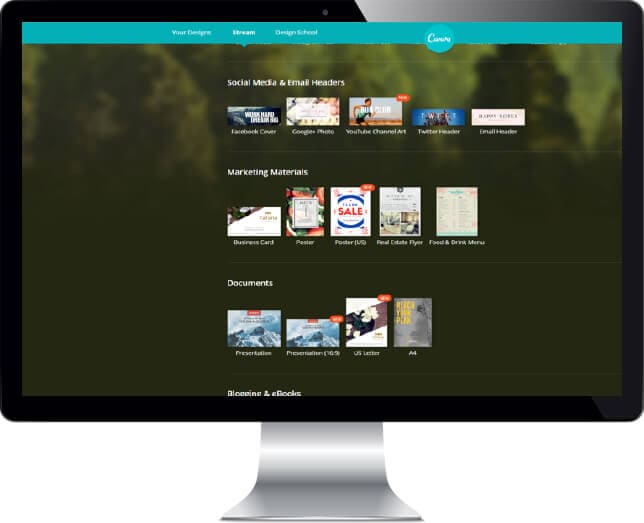 Click and drag a background of your choice to the blank flyer. (These are optional backgrounds to help give you an idea; you will upload your own images from your listing)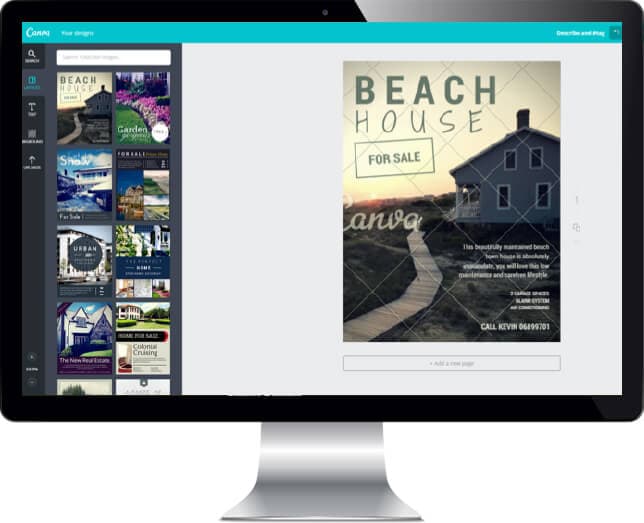 Take a look at all of your colors and text options. You can upload your own photos through the upload tool and at text boxes and more photos of your listing.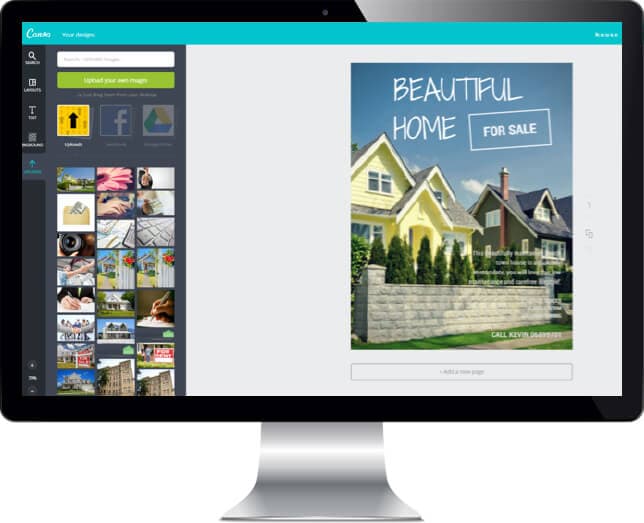 Spend some time exploring the site and make a few practice flyers until you get the hang of this.
Canva is very simple to use and definitely user-friendly. Scroll through the graphics and text that they have available and create a flyer that truly makes your listing stand out from the rest.
FlyerCo
If you're looking for something simpler, consider creating your flyer through FlyerCo, a website that's dedicated to real estate marketing via flyers.
This site has simple design templates that get right to the point and charges a small monthly fee.
1. Create an account
Once you've entered the site select the "Get Started" option and begin to search for your desired template. When you choose a template, you will then be asked to create an account.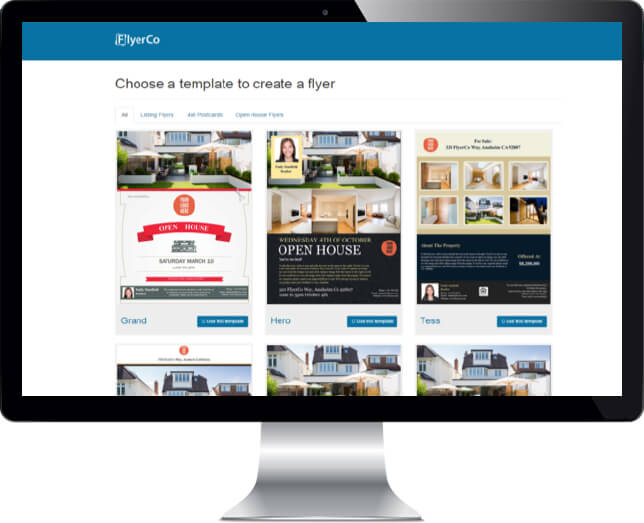 2. Insert Images
Once you've chosen the right template you can insert your listing images and contact information into the flyer. It's as simple as that.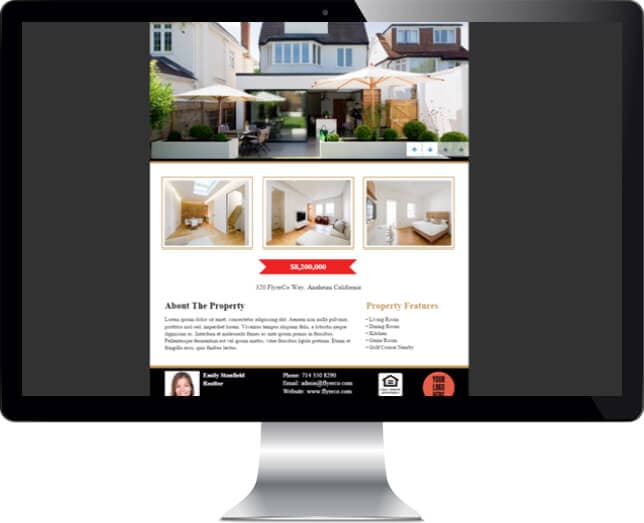 3. Download / Share
Once you save your flyer, you'll then have the option to download the final product for print, and even share it across your favorite social media sites.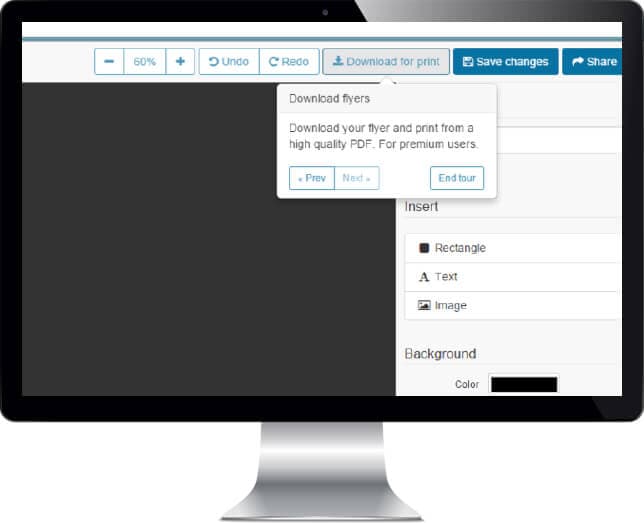 When you're looking for something that's easy and quick, then consider giving FlyerCo a try. It doesn't require you to be an artist, and you can get the job done quickly if you're pressed for time. Your only big obstacle will likely be printing the flyers and mailing them out!
If you've received flyers in the mail, what about them makes you want to keep them? Or throw them away?
Make it your goal to step outside of the box with your flyers, just enough to give you a competitive edge. Whether you choose to hire a designer, or give it a shot on your own, get creative and have some fun with this.
The more you can differentiate yourself from others, the better chance you'll have at reaching your target audience and gaining some leads to liven up your business.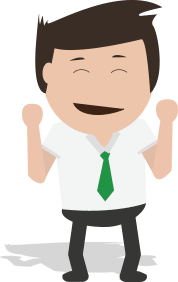 Did you enjoy this article?
There's more where that came from!
We hate spam just as much as you do. We promise we will only send content worth your time!