This is How to Get Out of Debt
July 12, 2017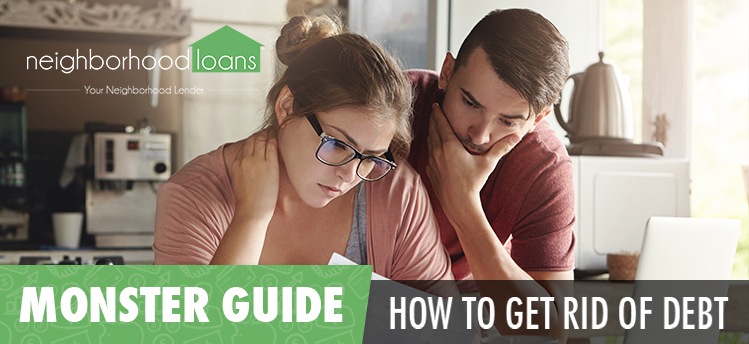 Do you ever refuse to look at your bank account because you don't want to know how much you spent on those necessary shoes? Or coffee from Starbucks because you needed a little pick-me-up? Or that impulse purchase on a vacation to Florida because you needed to get away?
Unfortunately, most of use aren't like Justin Bieber who can casually spend 1 million dollars a month. We must stop being in denial and pay attention to those numbers, or else many financial burdens will arise and not even Oprah will be able to help.
If you denied looking at your bank account for too long, don't panic. Neighborhood Loans has come up with a guide for you on how to get out of debt.
Where Does Debt Come From?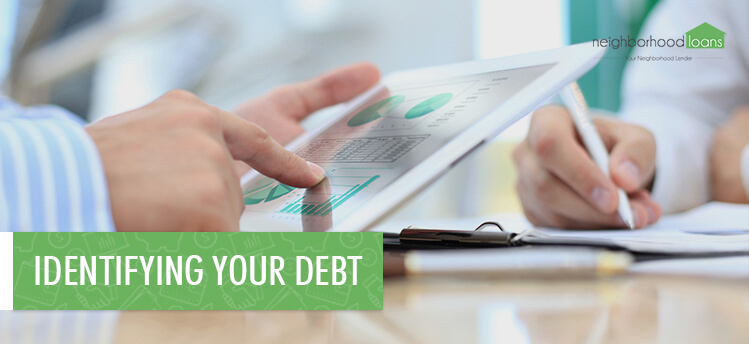 First, identify your debt. You may or may not know what is causing your debt, so understanding where your financial struggles are coming from will help lessen the amount you owe. The cause of your debt can be any of the following: credit cards, loans, bills or other financial responsibilities.
If you're still unsure of where your debt is coming from, there are online tools available to help you.
These private and resourceful financial tools will be able to help you securely track, monitor and organize your bank account. Some popular options include: Mint.com, moneystream.com, Buxfer or Personal Capital.
If you're not interested in giving websites or apps personal information, you can always make an Excel financial spreadsheet on your own. This way, you are in control and can see firsthand where and how much money you're spending.
The possibilities of debt are endless. Don't ignore these responsibilities or you could find yourself in a deep hole of constant badgering phone calls and letters saying. "PAST DUE".
What is the Plan?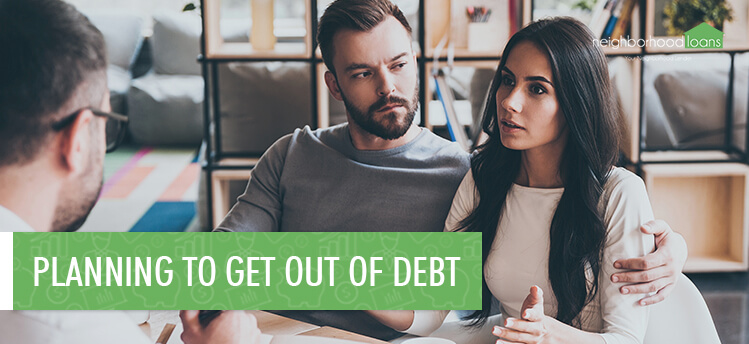 Once your debt is acknowledged, you can start planning on how you will relieve yourself. There are several options people typically use, such as:
Financial Adviser or Credit-Counseling Agency
These professionals specialize in this area. They will be able to advise, help plan and budget your expenses neatly so you will be able to pay off your debt in an economical way that works for you.
Monthly Payments
Most banks are accommodating and can set a pre-fixed rate of how much you will pay per month. In other words, your bank can meet you in the middle and negotiate a payment plan you can afford without wiping your wallet.
Refinancing
A fancy way of saying how to reconstruct your finances without setting yourself back. Later in this article will discuss several options of refinancing.
Increase Your Income
Desperate times call for desperate measures. Some people work multiple jobs to make more money or sell old items online. This can be a quick and efficient way to earn some extra money.
Don't Get Scammed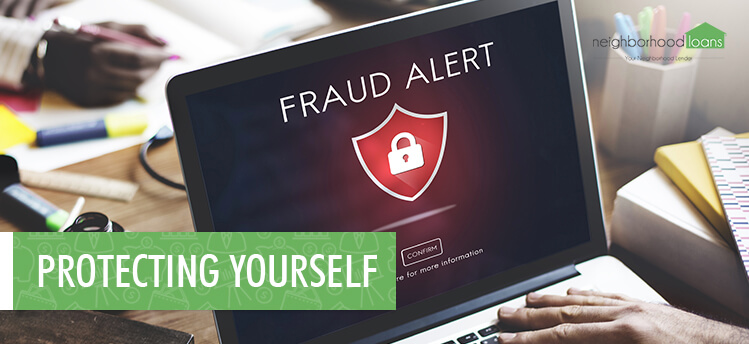 Some people are so in debt they resort to free debt relief companies. But, how do we know if they are real, or if it's a scam? We've got you covered.
According to online reviews, free debt relief companies are a possibility for some people. Depending on your financial situation, you may be able to qualify for their services. Some top free debt companies include: National Debt Relief, Freedom Debt Relief, Consolidated Credit and many others.
Be sure to do your research, analyze and compare companies to see which one can benefit you the most.
Unfortunately, some people fail to do their homework and end up being scammed by fake debt relief companies.
According to the Federal Trade Commission, a so-called mortgage-relief service has scammed people of hundreds of dollars to help them get out of debt. They contacted their prospects through illegal robocalls and claimed to be a non-profit group and was offering credit cards with an interest rate as low as zero percent.
To protect yourself, be familiar with the classic signs of scamming:
Charges fees before settling any debt
Guarantees it can make ALL debt disappear
Convinces you they can stop debt collection calls and lawsuits
Won't send you free information unless you provide private information (i.e. bank account information, social security number, etc.)
Before you become a client of any financial adviser or credit-counseling agency, do your research and see how trustworthy and successful they are. If you decide their expertise is what you need, be 100% sure they have your best interest in mind.
Companies don't require clients to give out personal information or ask for a down payment before they provide their services. If a company demands this information from you, hang up. The last thing you need is to be scammed out of money by a company that promises to help.
Why You Should Refinance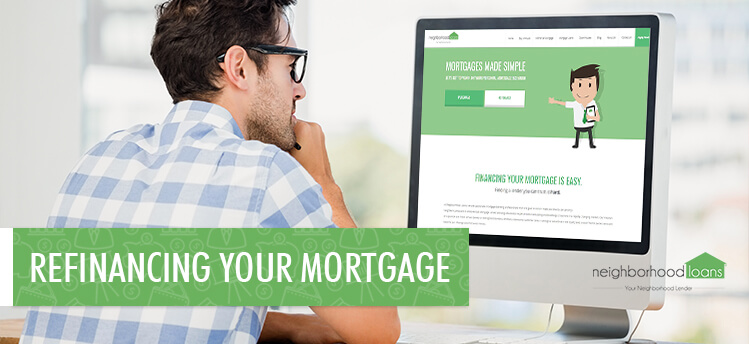 Another option for getting out of debt is to refinance your mortgage.
What does that mean exactly?
Mortgage refinance means to repay a loan by taking out another. The purpose of refinancing is to restructure your payments at a better interest rate. For example, could be a reduced monthly payment or a reduced duration. To better understand the refinancing process, check out this video, here.
There are many different types of refinancing options for people to take advantage of. We've broken it down for you:
Adjustable Rate Mortgage (ARM)
Also known as a variable-rate mortgage, is a mortgage loan that bases its interest rate on an index. Typically, the index is based on the LIBOR rate, the Feds funds rate or the 1-year Treasury bill. These mortgage rates are lower than the fixed-rate mortgages, which appeals people to use this option. However, payments can vary depending on if the interest rate rises.
Cash Out Refinance
A transaction in which the new mortgage amount is greater than the existing mortgage amount, plus loan settlement costs. The main objective of a cash-out refinance is to extract equity from the borrower's home. Commonly an alternative to a home equity loan.
FHA Streamline
Federal Housing Administration (FHA) mortgage loans are offered and processed by the U.S. Department of Housing and Urban Development. People who qualify for this loan are consumers that have little money or have credit issues. This loan is also somewhat easier and less expensive, and does not require an appraisal. The one requirement to use the streamline approach is that the existing mortgage is a FHA loan.
Fixed Rate Loan
An interest rate on a liability, such as a loan or mortgage, that remains the same throughout the entire duration of the loan or for a part of the term. This is attractive to buyers because they know the exact amount they need to pay, which makes budgeting easier.
HARP Refinance Program
This program was introduced in 2009, customized to help borrowers with little or no equity to refinance into more affordable mortgages without new or additional mortgage insurance. This program enables consumers a lower interest rate, get a shorter term or change from an adjustable to fixed-rate mortgage.
USDA Streamlined Assist
Provides current USDA direct and guaranteed home loan borrowers with low or no equity the opportunity to refinance for more affordable payment terms. No credit review is required; however, the mortgage needs to be paid as agreed for 12 months prior to the application.
VA Mortgage Programs
A program tailored to help veterans and their families obtain financing a home. This program was established by the United States Department of Veterans Affairs. To qualify for a VA loan, borrows must present a certificate of eligibility, which proves their record of military service, to the lender.
Obviously, not everyone applies for the same loan. Find out which one aligns with you the most and see if you qualify. Your financial advisor or bank can help you determine which loan suits you best.
How to Avoid Debt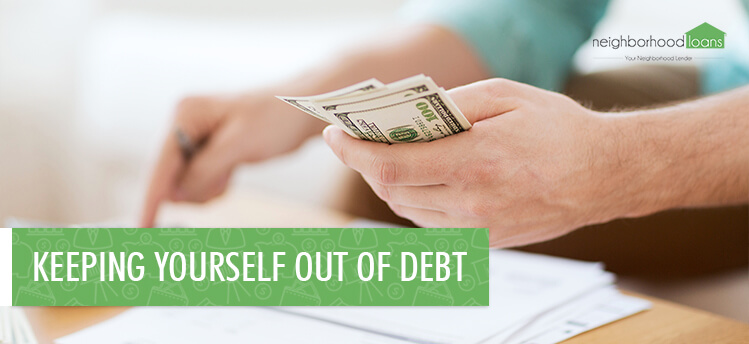 Now you know how to get out of debt, you need to know how to avoid going in debt.
There are many resourceful tools online available to help you budget, plan and track your expenses. The main objective of these tools is to visually help you see your money and spending habits. These websites also enable people to set long or short-term goals, manage expenses or create financial plans.
Some of the best budgeting resources include: mint.com, Personal Capital, BudgetPulse or Buxfer.
Again, if you are not comfortable with disclosing your bank information to these websites or apps, you can always create your own spreadsheet in Excel to help you record and monitor your finances. Here are some Excel templates to follow for financial management.
Now that you have the right tools to stay on track, you need to familiarize yourself with the most common ways of getting off track.
Here are some of the most common ways of going into debt:
Not Budgeting
Some people wing life and don't even hesitate to throw down their money. By not tracking, managing expenses or creating a plan can affect your bank account negatively. We need to be mindful when we are spending money mainly because of other financial obligations, either from loans, bills or miscellaneous financial expenses.
Impulse Purchasing
How often are you finding yourself in line at the grocery store and buying gum, candy or the magazine with another Kim K scandal? Refrain yourself, put down the Kit Kat bar and look forward. These small purchases add up quickly as well.
Eating Out
Without a doubt, this is probably one of the top causes of mindless spending. Whether it's a fast-food run or a sit-down restaurant, those bills add up. Although it might be satisfying in the moment, you could easily avoid eating out, save money and dine in.
Recreational Activities
These must be cut down or end all together depending on how often you are out and about. Extra expenses build up quickly and could be a potential contributor to the total amount of debt you owe.
Extravagant Shopping
If you consider yourself to be a shopaholic, this may be tricky for you, but will benefit you in the long run. You need to develop some will power and walk away from the sale or discounted rack. Either shopping high end or hitting every aisle in Target, can break your bank account.
Being aware of how much is in your account will help you determine how much you can spend without feeling guilty or remorse. Budgeting in advance is a good strategy as well. This allows you to visually see how much and where your money is going.
If you're looking for ways to save some serious money, check out this article, here.
Being in debt is scary and extremely stressful. Which is why Neighborhood Loans is providing the in's and out's of debt and how to stay far away from that status.