What You Need to Know About Buying a FORECLOSED Home
October 4, 2017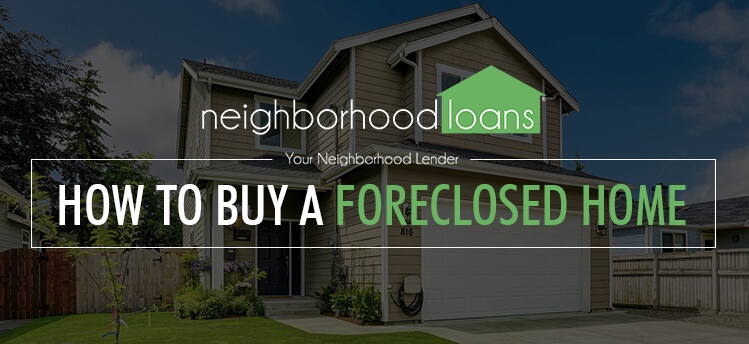 So, you have found yourself circling in the neighborhood you are just dying to live in.
Trying to scope out which homes are on the market and within your price range.
Suddenly, you see a "FOR SALE" sign.
Your heart begins to race, your mind starts to wander. Then you see "foreclosure".
Now, what does that mean, exactly?
Here's what you need to know:
What is foreclosure?
Foreclosure is a process where homeowners cannot make their monthly mortgage payments, resulting their home being repossessed by their lender.
When a home enters the foreclosure process, current occupants are typically evicted due to their inability to finance the home.
The home is then repossessed by their lender, bank, or the government, depending on what stage of foreclosure the property is in.
Generally, homes in foreclosure are in need of some type of maintenance. Whether it is hygienic, functioning or industrial related, the home was most likely neglected. This happens because homeowners are not able to take care of the home for the primary reason being its expense.
Foreclosure homes are appealing to potential homebuyers because of their attractive prices. However, there are extremely important factors to weigh in when doing business with a foreclosed home.
If you're looking to buy a foreclosed home…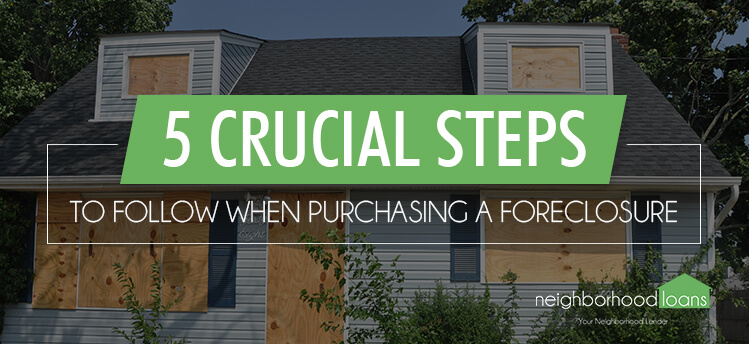 There are five crucial steps to follow when buying a foreclosed home.
Follow these steps, here:
1. Find a specialized agent
To begin this process on the right foot, you will need to find an agent that is specialized in foreclosures.
Finding an agent that focuses on foreclosures means they directly work with banks that own foreclosed homes. Banks typically don't have a large pool of agents that work with real estate owned (REO) properties. Many of these agents have a long-term relationship with their bank and have exclusive information of the foreclosure homes available.
They might be willing to disclose which homes are not even on the market yet, giving you an advantage to close on the home more quickly.
Specialized agents also have a network of contacts to help simplify this process. From lenders, to mortgage banks, other real estate professionals and to current residents in the area where you are looking to buy.
Buying a foreclosed home differs from a conventional property transaction. Having a specialized agent can help guide and inform you throughout the process.
If you try to work with a bank that is not specialized in foreclosed homes, they might refuse to do business with you, or it may lengthen the process.
If you are interested in buying a foreclosed home, consider visiting a website database filled with listings of foreclosed homes. This can help you narrow down and compare selling prices to give you a better idea of how you should finance the home.
2. Get preapproved
Just like a regular mortgage process, you will need to get preapproved by a lender.
Your lender will determine an appropriate loan amount based off their assessment of your credit score, employment history, income, asking price of home and more.
However, because this is a foreclosed home, the property is under the bank's custody. Meaning, the bank's broker will be the one to approve your or not.
Keep in mind because you are doing business with the bank's broker, that does not mean they will help you finance your mortgage as well. Financing a mortgage is a completely different process from obtaining home ownership from a bank. The people in the bank are focused on getting rid of bad assets, not financing your home.
Do not make the mistake of buying the home before figuring out your finances. Although these bank deals come and go quickly, do not dive into this transaction blindly without planning your financing.
3. Pricing depends on the sale
Like any real estate transaction, there is no real limit as to how much the home will sell.
In order to fairly estimate or negotiate a selling price, you will need to look at recent sales of similar homes in the area.
If you are following through with buying a foreclosed home, you will need to write an offer letter. This letter needs to be competitive and realistically reflect off today's current market conditions and be comparable to surrounding properties.
The bottom line: You will need to look at this investment like a conventional mortgage purchase and compare similar homes to accurately set a price.
4. Don't expect a repair discount
Foreclosed homes are generally sold as-is. Meaning, you cannot negotiate a lower price due to the home's lack of maintenance work.
If you think the home needs work like repainting, carpeting or any other type of fixing, don't expect a repair discount for these projects. Unfortunately, this is one of the biggest downfalls of purchasing a foreclosed home.
You don't necessarily know how long the home has been sitting there. The home has most likely been neglected and developed problems over time, such as deterioration of walls, possible leakage, broken windows or other maintenance issues.
Before completely following through with a foreclosure transaction, have the home thoroughly inspected. The bank will not allow for any contingencies prior to closing, so the home will sell as-is with zero changes.
When determining a fair asking price, look at the "absorption rate for your product class". In other words, find out how quickly comparable homes are selling. If comparable homes are selling quickly, the best advice is to go with your highest and best price.
5. Find professional help ASAP
It's almost guaranteed a foreclosed home will need some kind of fixing. Depending on how long the home has been sitting there, it could require some labor work and most definitely a handful of cash.
You can most likely assume the air conditioning and heating system needs to be fixed or replaced. If a foreclosed home is the most appropriate and economic choice for you, be sure to find a repairman as soon as possible.
You will need professional help to fix, repair or install any issue – large or small. Any home purchase is a huge investment, you do not want to jeopardize your own safety by fixing something you should have hired a professional for.
When current residents are being evicted out of their homes, majority of them are short on money. Sometimes, before they are asked to leave, they gather small items from around the house, such as light bulbs, cabinet knobs or toilet paper holders. Although these are small features, the price of replacing all of them can quickly add up. Be sure to closely examine these amenities to see if you will need to replace them.
What is different when buying a foreclosed home?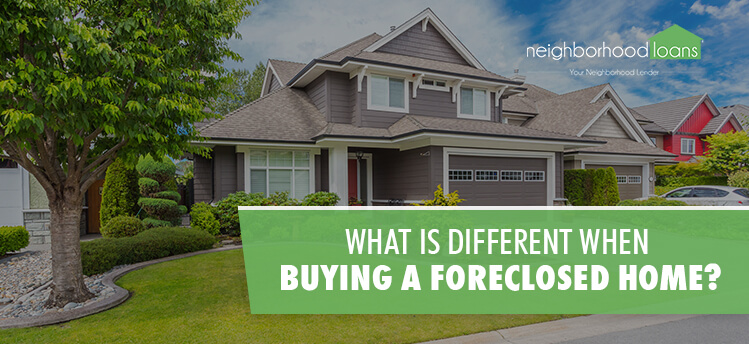 Foreclosed homes can look super appealing because it falls within your price range. However, be cautious of this benefit. Before researching foreclosed homes or writing an offer, you need to evaluate if this is the best option for you.
If you are considering buying a foreclosed home, expect to have an impersonal experience. You will not work with an agent that is dying to know what your dream home looks like. Opposed to a traditional mortgage transaction, your real estate agent would ask personal home questions and will do everything in their power to get what you want.
In this scenario, you will be working with the bank's broker who looks at this transaction as a business deal, not a monumental milestone for you.
When doing business with a lender, bank or the government, there are different and specific requirements to be met. Most lenders will not complete or close the transaction until all requirements are met. It is important to be patient, timely and current with any requests or changes that need to be made.
Keep in mind with a foreclosed home, banks will not allow for any contingencies. You will not be able to negotiate or request any updates or changes in the home before buying. The home will sell as-is with all of its scrapes, dents and imperfections.
Once you are the homeowner, you will have to take care of these issues on your own and take care of expenses out of your pocket.
It is highly advised to have the home thoroughly inspected before making an offer. Although a contingency cannot be made, home inspections will be able to give you a more concrete idea of the home's condition. Your specialized agent may even be able to provide a recent home inspection, saving you time and money.
Types of foreclosed homes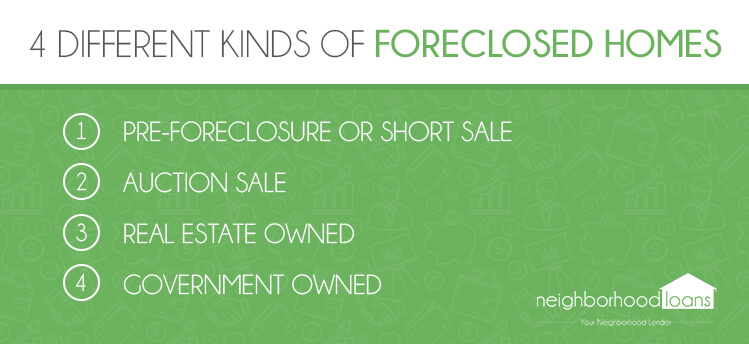 As mentioned before, there are different types of foreclosed homes. Depending on which stage of foreclosure the home is in will determine how the transaction will be handled. Here are the four types of foreclosed homes:
1. Pre-foreclosure or short sale
Pre-foreclosure is when the homeowner is more than 90 days late on payments and the lender has begun the foreclosure process with a given notice to the property owners. In this scenario, generally, homeowners are not ready to sell and move, so buyers need to be patient and sympathetic during this process.
Short sale is when the homeowner is selling, but does not have the funds and resources to close the transaction and needs short sale approval from lenders. Typically in this situation, the homeowner owes more than the market value of the property.
2. Auction sale
When a house is auctioned, potential home buyers are given the opportunity to place bids for the property. The auctioning process takes over the course of several hours.
The goal is to sell the home to the highest bidder, who will then receive the property and goods the home entails. If buying an auctioned home, most of the time, home buyers will purchase the property in full with cash.
3. Real Estate Owned (REO)
A term that identifies a property is owned by a lender, most commonly a bank, government agency or government loan insurer after a failed foreclosure auction.
Once a home becomes a REO property, the bank will handle eviction and if necessary, pay off tax liens and possibly do some repairs.
Since banks own these homes, they price competitively to get the best value. Before purchasing a REO home, ask for an old appraisal and get an inspection, this will give you a better idea of what condition the home was left in.
4. Government owned
Assets owned by a federal, state or local government organization. This can include any type of property, such as residential, commercial or industrial land, as well as other physical assets, such as machinery.
Properties can become government owned through normal purchases, foreclosure or tax default. In most cases, when a property is government owned, it is exempt from being taxed.
Is this the home for you?
Buying any type of property is a huge investment and needs to be approached with patience, knowledge and a well-thought out plan. The key to affording a mortgage is to strategically figure out what you can afford without wiping your wallet.
This applies to buying a foreclosed property as well. It may be trickier than a conventional transaction, but with the help of specialized agents and online resources, buying a foreclosed home can be possible if this situation suits you.